Hello Beautiful Souls! I am doing it again! This month, it is in September instead of our usual October. I am bringing some great places to you for  food and/or drinks here in London. [Whoop Whoop]. Foodtober is back and better this September! Twice a week [Mondays and Fridays], I will share a blog post about appetising and/or fancy spots I have been to for drinks, dinner or lunch. Let's start with a sophisticated hidden cocktail bar called Disrepute.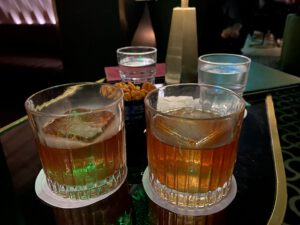 This hidden cocktail bar is in the same street/alley as Cahoots on Kingly Court. It is a small luxurious cocktail & lounge bar in a basement. [Perfect for dates and cosy conversations]. I went to this hidden bar two years ago for the first time. It is still a lovely place to hide and have some exquisite cocktails. 
A fun fact is that this bar is number 12 on the list of the top 50 cocktail bars in the country. On the list, you will find some other suggestions from previous blog posts such as The Night Jar [13], Tayēr + Elementary [4], Oriole [8], Callooh Callay [48], and The Cocktail Trading Company [50].
Another fact is that Disrepute is a members-only bar, but you can book a table in advance online or, if you like, you can apply for membership just for a fee of 150,-. This fee makes it the cheapest you have to pay for a private members club and all its perks. 
[metaslider id="13633″]
#hellolondon #londonlife #livingabroad #happy #goodvibes #misswidjaja2023 #mwlifeafter35 #hellogems #staycreative⁠ #afterworkdinner #londonfoodies #London #london.travelers #lifestyle #drinkstable #londonist  #londoning #soho #thingstodoinlondon #foodtober #hellofoodie #foodblogger #hiddencocktailsbars #afterworkdrinks #drinks #cocktails @disreputebar #disreputebar