Hello Beautiful Souls! I was lucky to do a few team events with the office in 2022. Our team went to eat some tapas and did a lifesized monopoly, a cooking class and a Christmas Party, this blog post. [How lucky were we?] The end-of-year Christmas party started in early December 2022 at the Refinery.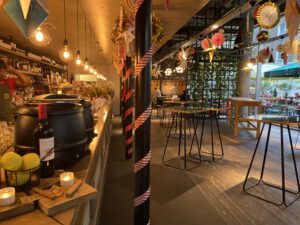 The Refinery is behind Tate modern on Southwark Street. This restaurant has a beautiful open space and is perfect for team events. The Christmas menu is a set menu where you can choose your starter, main and dessert. Unfortunately, I did have a cold around this time, so the food was quite bland. From what I heard from my colleagues, it wasn't any better for them. I think the reason is that it might have been too busy with many work events on this day. However, it was not that bad. My Christmas meal consisted of duck liver parfait and a sirloin steak [cooked perfectly] and ended with a cheese platter [I couldn't taste any of the cheeses, unfortunately]. On the other side, the drinks were good. They had some great cocktails on the menu. It is probably a great place to have [some] drinks with colleagues, friends or even family.
The Refinery is part of Drake and Morgan, where I tried their restaurant at Kings Cross before. It is a great restaurant and location. The lunch I had here was very affordable and delicious.
[metaslider id="11033″]
#hellolondon #londonlife #livingabroad #happy #goodvibes #misswidjaja2023 #mwlifeafter35 #hellogems #staycreative⁠ #hiddenrestaurants #therefinery #christmasparty #officevibes #afterworkdinner #teamevent #cocktails #southwarkstreet #londoning #London.travels @therefinerybankside #hellofoodie #londonist #london.travelers #londoning #thingstodoinlondon