Hello Beautiful Souls, welcome back to our foodtober blog posts. Today, we're taking you to a foodie heaven in the sky – Aqua Shard! Located on the 31st floor of The Shard, this contemporary British restaurant and bar offer a panoramic view of the city that is sure to take your breath away.
If you're looking for a great brunch spot, Aqua Shard is the perfect place to be. For just £44, you can enjoy a set menu that is both delicious and filling. While drinks and supplements might cost a bit extra, it's [definitely] worth it for the view you're getting. Aqua Shard is the perfect place to celebrate a special occasion or go on a fun date, especially if you [really] want to impress your companion.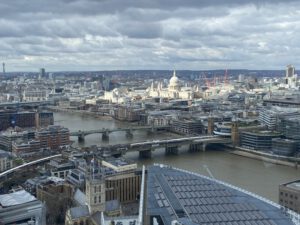 If you're planning on visiting Aqua Shard for brunch, try to get there at noon. That way, you're almost guaranteed a magical seat near the windows. And if you're worried about the wait, don't be! The lift to the 32nd floor only takes around 33 seconds, so you'll be up in the sky in no time. Once you're on the floor, you'll need to take the stairs down one floor to reach Aqua Shard.
As for the food, Aqua Shard doesn't disappoint. The menu is full of delicious options, but here are a few of my favourites:
Venison Carpaccio: This dish is a must-try! The venison is incredibly tender, and the combination of flavours is simply amazing.

Black Angus Beef Fillet: If you're a fan of steak, you won't be disappointed with this one. The meat is cooked to perfection, and the sides [mashed potatoes] complement it perfectly.

Gingerbread Cheesecake: This dessert is the perfect end to your meal. The gingerbread flavour is subtle, but it adds a nice twist to the classic cheesecake.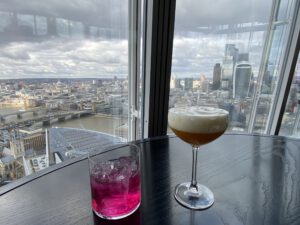 Of course, no meal at Aqua Shard is complete without trying one of their signature cocktails. While they are on the high end, they're [definitely] worth the price. 
All in all, Aqua Shard is a restaurant and bar that you don't want to miss. With its breathtaking view, delicious food, and luxurious cocktails, it's the perfect place to have a fun-filled day with your loved ones. So why not book a table today and experience it for yourself? Trust me, you won't be disappointed!
[metaslider id="14463″]
#AquaShard #TheShard #ContemporaryBritishFood #PanoramicView #BrunchSpot #FoodieHeaven #SpecialOccasions #FunDate #SignatureCocktails #HighEndDrinks #GingerbreadCheesecake #BlackAngusBeefFillet #VenisonCarpaccio #LondonEats #Foodtober #FoodBlog #Entertainment #DateIdeas #CelebrationSpot #CityViews #LondonRestaurants #londonblogger #hellofoodie #londonfoodblogger @aquashard