Hello Beautiful Souls! In one of the most stunning hotels, Claridge's, you will find the Painter's Room as one of three elegant bars. It is a dream to sit in their stylish art deco hideaway bar.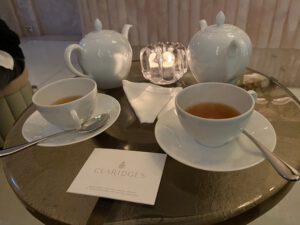 The Painter's Room is a bar I have heard of and planned on going to, but I never realised it is [hidden] in this gorgeous Claridge's hotel. The cocktails at this bar start from £20,00, so sipping our old-fashioned slow is [exactly] what we need to do when we are here.
I bummed upon this bar by coincidence, so I haven't tried a cocktail yet. This time we went for a cup of tea for a change. If you are with good company, it doesn't matter anyway. I did dream away at the mesmerising pink marble bar and art deco style of the room. It is minimalistic, but it has something cosy at the same time.
Great staff as well. While you are there, try one of the other bars, even if you go for a quick look. You won't regret it.
[metaslider id="10730″]
#hellolondon #londonlife #livingabroad #happy #goodvibes #misswidjaja2023 #mwlifeafter35 #hellogems #staycreative⁠ #hiddencocktailsbars #paintersroom #old-fashioned #Claridges #afterworkdrinks #drinks #cocktails #luxury #artdeco #London @claridgeshotel #drinktable #bartending #londondrinks #londonist #london.travelers #londoning #thingstodoinlondon