Hello Beautiful Souls! Have you always wanted to try to make cocktails yourself? Then look no further. This immersive cocktail bar at Hackney Fun House got you covered. This experience turned out to be super fun.
ABQ London is part of Hackney Fun House. Next to creating your cocktails, you can enjoy some delicious pizza from their Saint Pizzaria. There is even an Espresso Martini lounge bar.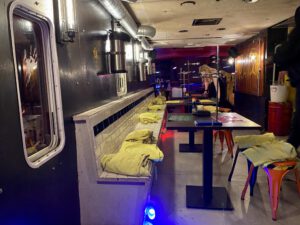 You can book your "cook your own cocktail" experience online for £38,00 per person. Please note you need to book for two. For 1:45 hours, you get a welcome drink, plus you will prepare two molecular cocktails. There is an option to make some non-alcoholic cocktails as well.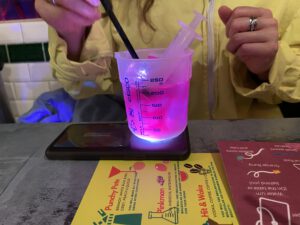 It is [such] a fun experience in the "Lab" with some old-school tunes in the background. The cocktail "Hit and Wake" is a tequila-based Espresso Martini where I had to make the tiramisu/ amaretto bubbles on top of the cocktail. Honestly, I completely forgot which cocktail I made after that because it took some time before we could start with the second cocktail.
I would recommend it if you enjoy cocktails and would like to elevate [enrich] your experience with friends or even with a date.
#hellolondon #londonlife #livingabroad #happy #goodvibes #misswidjaja2023 #mwlifeafter35 #hellogems #staycreative⁠ #ABQLondon #HackneyFunHouse #cocktailbar #mixology #molecularcocktails #drinkstagram #cocktailtime #craftcocktails #drinkswithfriends #nightout #londonbars #espressomartini #pizzalove #foodanddrink #dateideas #funwithfriends #instadrinks #instacocktails #barsoflondon #mixologist #londonnightlife #drinkup #cheers #imbibe #drinkresponsibly #cocktailculture @abqlondon @hackneyfunhouse @designmynight #drinktable #londonfoodies