Hello Beautiful Souls! Welcome back to another food blog post for this foodtober this September.  If you like my vegan suggestions here on the food corner, then [definitely] stick around. Purezza is a [completely] vegan pizzeria that is passionate about sustainability.
This place is truly heaven for vegans, but you don't have to be one to enjoy one of their pizzas. If you see any meaty pizzas on the menu, don't worry, it is not real meat or cheese.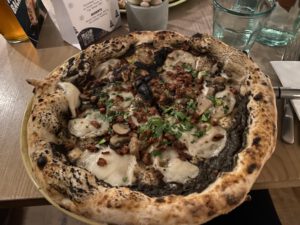 When I saw black truffle pizza on the menu, I had to try it. The base is black truffle with mozz[ar]ella, roasted pancetta and wild mushrooms. I was slightly disappointed that the black truffle was a paste. The flavour of the actual truffle was minimal. The pancetta was not the best, but the mozz[ar]ella was very good. Overall the pizza was good. I think my friend enjoyed her pizza a lot better. She had the seasonal pizza with lots of seasonal vegetables on top.
I would [definitely] go back to try another pizza. The pizza base itself is tasty. Next to pizzas, they have small plates as well. The cheezy dough balls were yummy, but if you are eating a pizza, it might be too much dough
[metaslider id="10822″]
#hellolondon #londonlife #livingabroad #happy #goodvibes #misswidjaja2023 #mwlifeafter35 #hellogems #staycreative⁠ #vegan #purezza #veganpizzaria #sustainable #afterworkdinner #londonfoodies #CamdenTown #fun #vegannonvegan #London #london.travelers @purezza  #lifestyle #foodcorner #purezzalondon #purezzacamden #londonist #london.travelers #londoning #thingstodoinlondon #foodtober #hellofoodie #foodblogger #londonblogger