Hello Beautiful Souls! Are you ready for a new weekly blog post about my experiences here in London? This week's post is about a [kind of] trend from last year if we speak about upcoming new trendy restaurants. I am not sure if it still is a trend. If it is, it is a place more for drinks than dinner or lunch.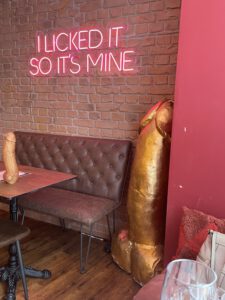 Last summer, roughly when it opened, I have been to Naked Soho. It is the first sex-themed restaurant where you can eat and have sexy cocktails. The place is cosy and colourfully decorated with all kinds of sexual objects [art]. Honestly, the artist who made all the art is incredible. I even wanted to buy a plate with a dick just because it was a unique piece.
We went around lunchtime and had a sharing platter and two sides of the toast with salmon and one with goat cheese. Not to forget, I had a cocktail on the side. Unfortunately, the toast was super dry, and the items on the platter were not that special. It doesn't have to be Sketch quality, but slightly better than what you can get in the standard supermarket.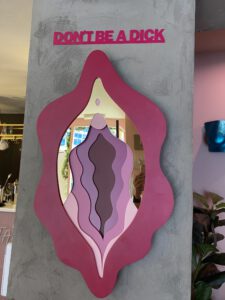 The cocktail I had was all good, so I would suggest going and checking this place out for drinks or desserts. I am usually all positive when I go and try new places, but I want to be honest [as well] with you.
Naked Soho is a sexy and trendy place for Instagram pics and cocktails. I am curious how well they are doing now and if a second visit is worth it.
[metaslider id="10062″]
#hellolondon #londonlife #livingabroad #happy #goodvibes #misswidjaja2023 #mwlifeafter35 #NakedSOHO #drinktable #sohobars #datenight #cocktails #sexybar #firstsexthemedbar @nakedsoho #londonist #london.travelers #londoning #londonblogger