Hello Beautiful Souls! I am going to mix the Foodtober blogs with some magnificent cocktail bars. In this blog, I am introducing you to Tayēr + Elementary. It is a cocktail bar driven by modern techniques and old-fashioned practices constructing cocktails that has that simplicity and uniqueness to each cocktail.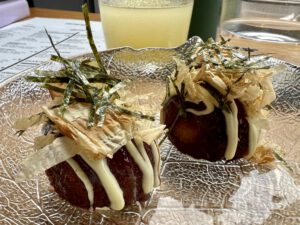 It is a small neighbourhood bar on Old Street. Its menu will surprise you. If you are like me and like anything authentic [or has an ancient feel], you will love it. You have cocktails like; Bergamot Margarita, Palo Santo Gimlet, Cedarwood Old-Fashioned [love a well-made old-fashioned] and some limited editions. The prices here are a bit high-end, but the experience you get for it is worth it. Even the snacks [snax] are delicious. We tried the prawn croquettes. They were heaven! Great music as well, a lovely place to catch up with friends.
Tayēr + Elementary has an online shop where you can buy some of their cocktails in a bottle. A genius idea, right? These cocktails will be a hit at some birthday parties or get-togethers.
[metaslider id="9586″]
#hellolondon #londonlife #livingabroad #happy #goodvibes #misswidjaja2022 #mwlifeafter35 #hellogems #staycreative⁠ #hiddencocktailsbars #Tayēr+Elementary #BergamotMargarita #PaloSantoGimlet #afterworkdrinks #drinks #cocktails #oldstreet #snax #London @tayer_elementary #HELLOFOODIE #FOODTOBER