Hello Beautiful Souls! In this week's blog post, I will take you to a place to explore and wander, Oriole Bar. The Oriole bar is similar to The Nightjar as both are speakeasies with mysterious cocktails and a live jazz band. In this bar you do feel you are an explorer – like Christopher Columbus. Only this time, exploring the food, spirits and worldly cocktails.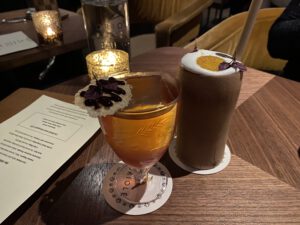 When you book a table, please check their value bookings types. They offer great value packages of cocktails with some bites or dinner. However, the dinner package is not the best dinner you will get because I think it is mainly a cocktail bar than a restaurant. With this said, I had an amazingly great time eating and tasting different cocktails while listening to some jazzy live music.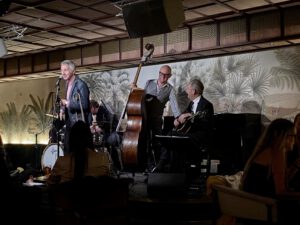 One of my favourite cocktails is actual in this place. It is the Sanshin Old Fashioned. So with the Dinner & Show package, we got a welcome drink, one small plate [burratina], one large plate [octopus], one dessert [brownie] and one cocktail [the Sanshin old-fashioned]. This package includes the cover charge for the live music and is [in total] £45,00 exclusive service charge. The time you will spend listening to music, drinking and chatting, you will most likely pay double the price end of the night per person.
For a first date, this place is a bit over the top [I think], but with good friends or family, it will be a treat and very enjoyable.
[metaslider id="8647″]
#hellolondon #londonlife #livingabroad #happy #goodvibes #misswidjaja2022 #mwlifeafter35 #hellogems #staycreative⁠ #hiddenbars #oriolebar #classiccocktails #explorer #afterworkdrinks #speakeasy #jazzlivemusic #oriole #smithfieldsmarkets #farringdon @theoriolebar #HELLOFOODIE #FOODTOBER