Hello Beautiful Souls! The month of June is my musical month. I will post twice a week blog posts about musicals I have seen recently or last year.  For today's blog post, I went to see The Lion, The Witch and The Wardrobe, which is about the chronicles of Narnia.
If you are a big fan of Narnia, this is the musical for you. I will be honest with you. I am not a big fan of the story. However, I am always up for a great musical.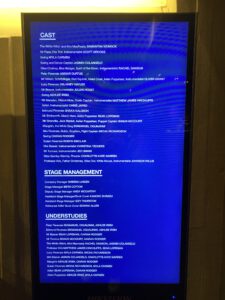 The production was well-crafted, with a talented cast and costumes that perfectly complemented the narrative. It felt like reading the book, with a touch of imagination required. I particularly enjoyed how some cast members played multiple roles and even showcased their musical talents.
If you're a Narnia enthusiast or have children, this delightful musical is a must-watch. Remember, for the best experience, secure seats in the middle of the stalls to fully appreciate the stage's overall effect. Don't miss out on any captivating moments as I did from my front-row seat.
[metaslider id="10768″]
#hellolondon #londonlife #livingabroad #happy #goodvibes #misswidjaja2023 #mwlifeafter35 #hellogems #staycreative⁠ #musicals #TheLionTheWitchandTheWardrobe #theatre #entertainment #ChroniclesofNarnia #Narnia #Londonmusicals #Aslan @lionwitchstage #londonist #london.travelers #londoning #thingstodoinlondon #musicalmonth23 #musicalmonth #musicalJune