Hello Beautiful Souls, welcome back to a new blog post! I am happy you tuned in again. I am pretty excited to tell you all about this week's experience. It is mainly for the daredevils among us, so if you are looking for something thrilling, a spot for some cocktails and an epic view, look no further. I got you covered with this experience. [Thank me later]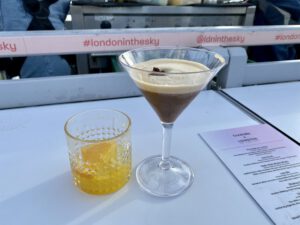 London in the Sky is an experience from up in the sky, 100ft [30 meters] high. [That is right, 100 ft high and drinking cocktails, what else do we need] You can choose from different arrangements, from only cocktails to brunch or dinner. Of course, I went for the cocktail arrangement [around 6:30 pm, so there is a chance you will see a bit of sunset around this time]. The cocktail arrangement includes three cocktails that you can enjoy with an epic view for more or less an hour. The menu has the classic cocktails with a twist, including my favourite Espresso Martini.
The London in the Sky is next to the O2 Arena, which gives you an excellent [breathe taking] view of Canary Wharf. It is open till the end of August, so plenty of time to book a slot here. It is [kind of] pricy, but worth it if you aren't afraid of height and looking for a once in a lifetime experience.
[metaslider id="7136″]
#hellolondon #londonlife #livingabroad #happy #goodvibes #misswidjaja2022 #mwlifeafter35 #londoninthesky #drinktable #cocktailsinthesky⁠ #datenight #fun #friends @ldninthesky