Hello Beautiful Souls! Moving flats can be a daunting task, especially when you're doing it solo in a city as bustling as London. As a woman who has experienced the challenges of finding a place of her own in this competitive rental market, I understand the importance of being well-prepared and organized. In this two-part blog post series, I will share my personal experience and provide valuable tips to help fellow women successfully navigate the process of moving flats solo. In this first part, we will focus on the crucial preparation stage and the final two weeks leading up to the move.
Setting Your Budget and Non-Negotiables:
Before embarking on your flat hunt, it's essential to establish a clear budget and determine your non-negotiable requirements. Consider factors such as your preferred rental price range, desirable amenities, neighbourhood safety, proximity to public transportation, and personal preferences like having ample natural light or a separate kitchen. By having these criteria defined, you can streamline your search and save time by focusing on properties that align with your needs. The rental market changes a lot, so check your preferred type of housing to see what the average price should be.
Here are some of my non-negotiable requirements for a studio;
Separate kitchen. (I do not like it if the bed is in the kitchen kind of situation)
Lots of daylight. (preferably South facing windows, so you don't feel like you are in a shoebox)
Flat has to be clean from the day of viewing, especially the bathroom. (it is just not promising if it is dirty from the beginning)
No old building that needs lots of maintenance. (usually landlords don't want to invest much more, so if it is okay from the beginning, the better it will be for you)
Easy connection with at least a tube line and one other public transport option to Central London. (this is in case there is a strike, it will give you options)
Big enough for a work-from-home office.
If possible, storage space.
The neighbourhood needs to feel safe to me. (in case I come home late at night)
No carpet at all, wooden floors or laminate.
Well-isolated, double-glazed windows. (winters in London are cold, you don't want to overspend on heating)
At least first floor. (I feel safer leaving a window open at night in summer when it is not ground floor)
At least one or two supermarkets nearby.
Unfurnished flat. (I want to make the flat my own and not feel like I live in someone else's home)
Needs to have white goods like stove, oven and washing machine
Budget around 1000 to 1100 pounds flat rent.
Depending on other factors, like how fast you need to move, so you might not get all your requirements. Just check which ones are most important to you and which ones you can compromise.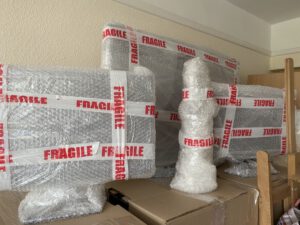 Utilizing Online Platforms: OpenRent and Flatshare:
To kickstart your flat search, online platforms like OpenRent and SpareRoom can be valuable resources. OpenRent allows you to rent directly from landlords, while SpareRoom provides options for shared accommodations, including studio flats. While both platforms have their merits, I primarily utilized OpenRent due to its familiarity and my desire for a place of my own. Keep in mind that studio flats on SpareRoom and OpenRent tend to be in high demand and get snapped up quickly, so act promptly, if you find something that meets your requirements. When you find a flat and want to view the property, do a pre-check.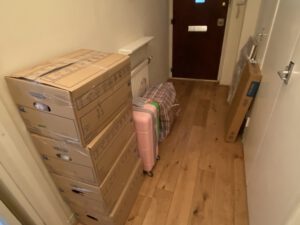 Check online on the Met Police website or via Google search to check the safety level of the neighbourhood. It will help you to determine if it is a safe area at night when you come home late. Some neighbourhoods that felt unsafe to me are (South) Croydon, East Ham, Newham and Lewisham. There might be more, but these came up when I viewed some flats or cancelled a viewing because of the area. Have a look at this guide to see what is suitable for you if you think of a safe area. Trust your instinct and go a bit early to explore the neighbourhood before the viewing. This check helped me to decide whether to submit an offer or not.
Tips for when you view a flat:
Ask Questions, I just used these websites, Zoopla, Apartment Guide, and My Urban Jungle.
Check if the area is connected with TFL.
Another site for finding flats, Rightmove.
Submitting an offer, have your paperwork ready. This meant for me, a copy of my passport (ID), my settlement status (Code), three months of payslip, a letter from my employer, and three months' bank statements. I had a letter from my previous landlord as well, but I did not need it in the end.
Set up notifications via email with Openrent and SpareRoom, so you are up to date and one of the first when something new becomes available. As soon as you like it, ask for a viewing. Don't wait too long!
Learn From Past Experiences, Choosing Solo Living Over Flat Sharing:
Having had both positive and negative experiences with flat sharing, I decided to prioritize finding a place for myself. Sharing a flat with someone unknown can be a gamble, especially if you differ in values and expectations. If you do choose to share, consider opting for someone you know and trust. However, living solo provides a sense of freedom and allows you to create a space that reflects your style and preferences. I wanted to have a place that I call home. This will be the first time in a while that I feel at home again, even if it means moving out of central London. My well-being is as important as the feeling of freedom for me, so I choose to find something within my budget outside of Central London. (Not going to lie, the first week was tough, not seeing the beautiful St.Pauls Cathedral and the Shard nearby, but I get so much in return and peace of mind) Plus, if it is one of your requirements, it should be an easy connection to Central.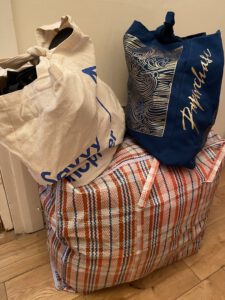 Preparing for the Move: Decluttering and Cleaning:
To start fresh in your new flat, declutter and clean the belongings you plan to bring with you. Donate, discard, or sell items that no longer serve you, and embrace the opportunity to curate your living space intentionally. By doing this, you'll not only reduce unnecessary baggage but also make room for new furniture and belongings that resonate with your vision. ReDonate is a charity that picks up boxes to donate from your home. Go to their website and see what they collect and arrange a collection of your old stuff. I gave away a massive box with clothes and kitchen supplies. It is easy to arrange a collection of your old stuff online. They were picked up at the collection date with no hassle. To be honest, I wanted to start fresh and not bring any old memories of the last two flats. I sold some furniture on Gumtree, gave away some and threw away old things. If this is something you like to do as well, budget this separately, so you can purchase furniture as soon as you move in.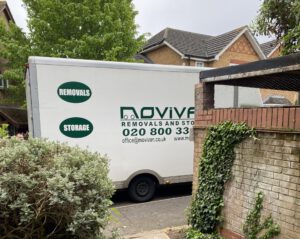 Moving Supplies and Hiring Professional Movers:
Invest in the right moving supplies, such as good-sized boxes, bubble wrap, and garment boxes for your clothes. I bought all of these on Amazon. Start as soon as you know you are moving out. It gives you a window to order extra boxes when needed. Prioritize the safety of fragile items by wrapping them carefully.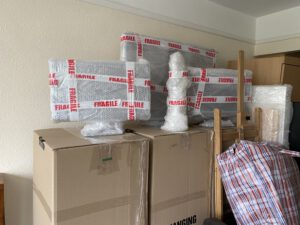 Additionally, label cables and keep them separate to make setting up electronics easier in your new home. Hiring professional movers can be a game-changer, saving you both stress and time. Consider the cost of movers as an investment in a hassle-free moving experience. I am so happy I did hire movers for the moving date. It was stress-free and cost me 265 pounds for all my boxes without heavy furniture. The company I went for and did a great job is Movivan.
These are the moving supplies I bought from Amazon:
Laundry Bags for random items that don't need to be packed carefully. Also handy for bedding on the day of moving.
A scissor (have at least one)
An airbed for the first few days in the new flat if you haven't got a bed yet. You can use it for a guest as well in the future.
Storage bags for clothes, to have your clothes, winter and summer, organised and linen, towels. It will make it easier to find anything back once you are in the new flat.
Garment boxes to hang clothes. This was amazing, all my hung clothes could fit in 3x boxes.
A mattress cover, because I have my mattress and wanted to bring it with me to the new flat.
Bubblewrap for all fragile things, monitors, tv. I bought this wrap and used it all.
Moving boxes. They were medium-sized, but 15x were okay for me.
Conclusion:
Moving flats solo in London may seem like a daunting task (I know, it was stressful the first few weeks), but with proper planning and organization, it can be a smooth and rewarding process. In this first part of our blog post series, we discussed the importance of defining your budget and non-negotiables, utilizing online platforms for your flat search, learning from past experiences, decluttering and cleaning, and preparing for the move with the right supplies and professional help. Start as soon as you know the moving date. By implementing these strategies, you'll be well on your way to finding the perfect place to call home and if you have to do it like me, all solo.
Stay tuned for Part 2, where we'll cover the final two weeks leading up to the move, ensuring a stress-free and successful transition.
#MovingFlats #LondonLiving #SoloLiving #RentalMarket #FlatHunt #FlatHunt #MovingTips #MovingDay #SoloLivingGuide #LondonRentals #ApartmentHunting #NewBeginnings #StressFreeMove #HomeSweetHome #LondonCity #IndependentLiving #FlatSearch #MovingSolo #LondonProperty #RentingInLondon #LondonGuide #livingalonediaries #newbeginnings