Hello Beautiful Souls! Congratulations on securing your dream flat! (If you haven't found it yet, it will come soon! We are manifesting it!) In Part 1 of this blog post series, we covered the initial steps of moving flats solo in London. Now, in Part 2, we will delve into the last two weeks leading up to the move, ensuring a smooth transition into your new home. From cancelling bills to organizing finances and preparing for the actual move, let's make this process stress-free and exciting.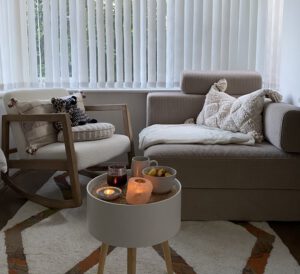 Cancelling Bills and Transferring Services:
In the weeks before your move, it's essential to cancel or transfer your bills and services from your current place. Contact the relevant providers for council tax, energy and gas, water, and internet, informing them of your move-out date. Make arrangements to settle any outstanding bills and ensure a seamless transition of services to your new address. Don't forget to change the address of your bank account and subscriptions. A tip for when you are living solo, apply for a discount for council tax in your new borough. At the moment, you should get a 25% discount when you live by yourself.
Managing Finances and Deposits:
As you approach your move, be mindful of your financial responsibilities. Make sure you have enough saved to cover the first month's rent and the security deposit, typically amounting to five weeks' rent. Additionally, allocate funds for the actual move itself, including hiring movers and purchasing new furniture or essentials. Having financial stability during this time will alleviate stress and allow you to focus on settling into your new home.
These are roughly my costs to get a better understanding:
The first month's rent is around 1000 pounds.
Deposit 1125 pounds. Don't forget to leave the previous flat as well as possible, so you will get your full deposit back.
Moving supplies 100-200 pounds.
The budget for new furniture and things you need in the new flat is around 5000 pounds. Depends on your preferences. I went for furniture (bed and wardrobe) with lots of storage and reliability, like Ikea. Invest in a WFH desk if you WFH a lot like me.
Movers – never going back to doing it myself with a van or asking people to help. This was around 265 pounds.
Temporary unlimited data is 40 pounds and the dongle is 45 + 20 pounds to top up. Unfortunately, I had to spend a lot on this as I was not in charge of the internet bills and struggled with no internet at the beginning of the process to find a flat and WFH in the old flat.
New bills (electricity, water, council tax) are around 200 pounds.
Internet provider Cuckoo [30 pounds] loved that they can set you up [already] when you are waiting for the internet line to be live within two weeks. With an additional 40 pounds, you get a dongle and can WFH without an issue. Also, possibility to have a monthly subscription instead of a year. The customer service is great.
Task Rabbit, to build my wardrobe and the ottoman bed was around 245 pounds. They do lots of tasks that are very useful when you can't do them yourself.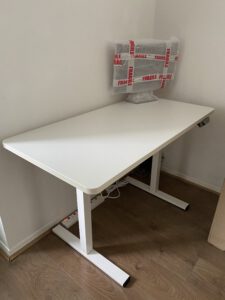 Utilizing Unlimited Mobile Data or Dongles:
During the transition period, you may experience a temporary disruption in internet service. To stay connected, consider using your mobile phone with unlimited data as a hotspot for your laptop or other devices. Alternatively, you can invest in a dongle to ensure uninterrupted internet access during this period. Having a reliable internet connection is crucial for staying connected and managing any necessary online tasks. Especially, if you work from home.
Celebrate and Embrace the Change:
Take a moment to celebrate your achievement! Moving flats solo in London is a significant milestone, and you should be proud of your accomplishment. Embrace the positive changes that come with your new home, even if it means adjusting to a different view or surroundings. It took me a while to truly believe I got my dream flat. Mainly, because I was rejected first, while I gave it my all and had everything ready. Luckily I was the second option as the first option didn't have all the references ready. So I know first-hand it will be a stressful period with lots of disappointments, a lot of crying, but wake up every day with positive vibes and do your best again. At some point, a landlord will see why they should pick you as you are most likely a good tenant, pay rent every month and want to make the flat your home and takes care of it. Trust the process. I believe you will find the dream flat if you haven't already.
I must have seen at least more than fifteen flats ALL OVER LONDON and submitted an offer on four. Including the one that rejected me first and later on got the flat. Try to focus on your non-negotiables and find flats aligned with your requirements. You will save precious time viewing flats, you already know you don't want. Another thing, I forgot to mention is that I never overbid the offer. I went for the asking price each time because I don't think it is fair to ask more than the asking price [or even worth it], but you will lose some options if you don't do it. Keep that in mind!
I enjoy the peace, quiet, and fresh air my new residential neighbourhood offers. I am so grateful and happy I found my new flat with a good landlord and a flat to call home. I still need to pinch myself to see if it is a dream. Living alone in London is an accomplishment [by itself] and something to be proud of. Cherish the freedom and independence that come with having your own space. Once you are settled, try to save and build an emergency fund again, so you can live stress-free in London. You will be prepared and know what to do and what it costs if you need to do it all over.
Conclusion:
As you enter the final two weeks leading up to your move, focus on cancelling bills, managing finances, and preparing for the transition. By taking care of these essential tasks, you'll ensure a smooth move and a stress-free start in your new flat. Embrace this exciting chapter in your life and enjoy the freedom and happiness that comes with finding a beautiful studio flat. Remember, with proper planning and organization, your solo move can be a liberating and fulfilling experience.
Best of luck with your move, and may your new home bring you endless joy and fulfilment!
#MovingFlats #LondonLiving #SoloLiving #RentalMarket #FlatHunt #LondonLife #MovingTips #MovingDay #SoloLivingGuide #LondonRentals #ApartmentHunting #NewBeginnings #StressFreeMove #HomeSweetHome #LondonCity #IndependentLiving #FlatSearch #MovingSolo #LondonProperty #RentingInLondon #LondonGuide #MovingPreparation #MovingChecklist #MovingToLondon #MovingTipsAndTricks #MovingAdvice #LondonBound #LondonLifestyle #livingalonediaries