Hello Lovely People, Welcome back to a new Hello London blog post! Last year in October, I went for our team building event to this cooking class at Bellavita Academy.
If you like MasterChef, then this is definitely for you. We were divided into four groups to make our Spanish dinner in only 75 minutes. I was in team Barcelona and responsible for the paella. The complete dinner had some patatas bravas, mushroom bruschetta, meatballs in tomato sauce, salad and a cheesecake next to the paella.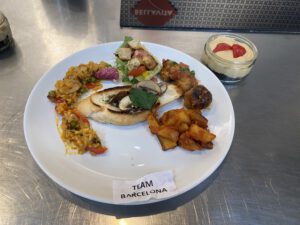 If you can't cook, don't worry. There are four chefs helping everyone out, so you will make it in time. I enjoyed making the paella. The hard part is to help your teammates out when it is already stressing about finishing your recipe. In the end, we made it. I did enjoy each dish we made.
It is a kind of MasterChef with the competition element in it. After the chefs judged our results and they announced the winners. Unfortunately, it wasn't my group, but I got great compliments from the chefs for my paella. So I am very proud of myself anyway.
If you are looking for some teambuilding event with work or friends [and love cooking], look no further, this is an excellent option! You can even do Italian wine tasting, which I might do next.
[metaslider id="10550″]
#hellolondon #londonlife #livingabroad #happy #goodvibes #misswidjaja2023 #mwlifeafter35 #hellolondon #staycreative⁠ #hiddengems #teambuildingevents #bellavitaacademy #London #Spanishtapas #cookingworkshop #work #funexperiences #workevents #paella #londonist #london.travelers #londoning