Hello beautiful souls, Welcome to a new Hello London blog post. This post is about a day to never forget, a wonderful fairytale lunch at The Glade. Fairytales do come true!
As you know, I have been to the magical Gallery in Sketch for the afternoon tea. Little as I know, this place has much more to offer than already the excellent experience I had during the afternoon tea.
I had some great company which made the experience in The Glade hunderd times more exciting and more intense than it already was. [Always great to share with people who are open to new or similar experiences] Thank you, cousin, for sharing this experience with me. What a lovely weekend we had together. A weekend to remember and something we need to do more often, don't you think?
The day finally arrived. [I was super excited ] It was a beautiful day to walk to this mythical fairytale forest – The Glade. As soon as we stepped into Sketch, I felt so much joy, gratitude and excitement. I couldn't wait to take it all in and enjoy it.
We had a lovely table in the back of the room overlooking the complete Glade. Perfect spot to be swept away and relax. The service in general in Sketch is top-notch, but the sommelier that day did an excellent job pairing the wine and port to every course we had. [Thank you, Henry, for your exquisite service that day!]
My philosophy is if you go to Sketch, you go all in or not. On the Glade Garden menu, we went for the three dishes at just 40 pounds with for each course a complimentary drink. [Drinks are excluded.] I think this is the 'more affordable' room in Sketch, nevertheless, a dreamy fairytale experience is a guarantee. I felt I was taken away from the Sketch portal into a mythical forest. [Just like that.]
As an aperitif, I had one of their lovely champagne, a Louis Pommery, England. This champagne turned me directly into a champagne lover for real. We had some tasty appetizers with our first drinks.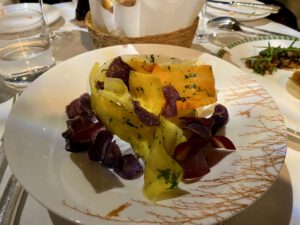 For the first course, the Bavaroise of violet sweet potato with the orange reduction was what I went for. A fancy name for sliced and slightly fried vegetables on top of the Bavaroise. The Bavaroise was a bit too much for me, but not bad at all.
The main course was one of my favourites dishes. The truffled gnocchi with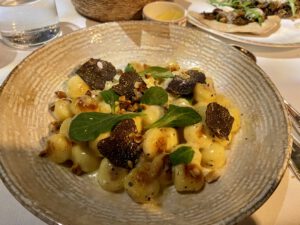 truffled parmesan cream. If you like truffles like me, you will be in truffle heaven. The wine I had with this course was the 2019 Borge Red, Dedham Vale vineyard, Essex, England. [Great red wine from the UK and very light.]
The dessert was a surprise as we thought we needed to pick just one. [I did plan to make room for just one in my belly] Instead, we got all three, a trio of desserts. The desserts paired well with the White port, Quinta do Infantado, Portugal. [Slightly full of all the delicious food, but I made some room to try all desserts.]
The highlight of the lunch was the performance of a ballerina who did a piece of the Swan Lake I believe. Beautiful to have seen the ballet performance four times. [We stayed for more than four hours without being told to leave] Amazing staff, the sweetest thing was that they felt how much we were delighted for having this experience together that they brought us a little surprise. [My heart melted when we got the below, so sweet]
If you are planning to go to The Glade or any other room in Sketch, please book in advance. More or less like a month in advance, to book click here.
Sketch will always be one of my favourite experiences in [fine] dining. They do their best to make you feel you can leave all your worries outside and enjoy dining next level. The next stop will be the Lecture Room. I can't wait to go to this experience in the near future.
For the lunch, complete with drinks, you can count on 110 pounds per person more or less. It all depends on what you drink with each course, but I would say it is worth every penny. I would do it again in a heartbeat when possible.
[metaslider id="4620″]
#Sketch #Sketchlunch #SketchLondon #SketchTheGlade