Just wanted to share with you, my latest painting in progress. It doesn't have any title yet. The inspiration comes from my "Love Thy Self" painting I finished earlier this year. That painting has been featured in the RegenerArt Ebook.
During the lockdown, I have painted so many dogs, which are all going to have a wonderful new home. I am super sad that they are leaving. I am also very happy and proud, they get to have a new home. Luckily this dog is going to stay a bit longer with me. I got the inspiration from my friend's lovely dog in the Netherlands, who is super cute.
As you can see in the painting there is the apple, who is alive. There is also this beautiful powerful black lady who might not be human with her very protective dog. I love paintings where you can image your own fantasy/ story by looking at it. I love when the painter adds some clues or hidden messages in the painting.
As the title suggests, it is still in progress. I might add some new elements in on a later stage. For now, I think it is nice to document the progress as it is. At least for me, it is nice to see how I progress in painting :).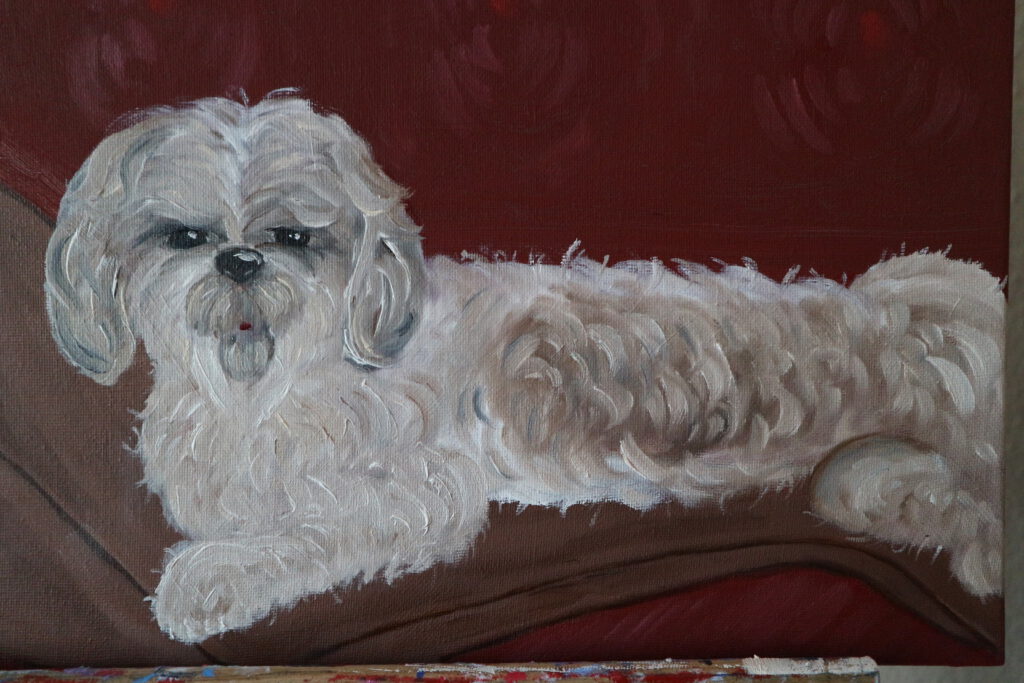 I am actually very happy with the dog so far. For me, painting a dog, I usually do in one session, alla prima. That just works the best for me. When I start, I have to make sure I am satisfied with the end result in that session.
Hoping you like this kind of blog posts about my journey in painting. I really enjoy painting, it is relaxing and therapeutic for me. I would love to improve my skills and see how this will change in the future.
Update – in the end I left the painting as it is and named it UNION OF THREE.
Bye for now,