Hello Beautiful Souls! Welcome back to a new "Hello Foodie" blog post this #Foodtober in September. Today I am bringing you to my first-ever Michelin-star restaurant named "La Dame De Pic". If you like to do a fine dining experience once in your life or now and then, this is an excellent choice!
La Dame De Pic at Four Seasons Hotel is a French Brasserie Deluxe. This restaurant retains two Michelin stars in the 2022 Michelin guide. Anne-Sophie Pic is the fourth female chef with three Michelin stars for her restaurant Maison Pic in the South of France. In total, she holds ten Michelin Stars.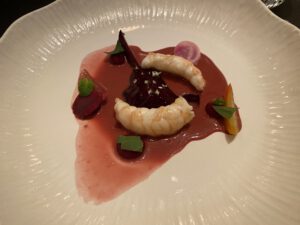 There are two options for the tasting menu, the Journey and the Voyage. We went for the Voyage tasting menu. Be prepared to take this "voyage" with lots of explosions of different flavours. Take your time because the tasting menu will take around four to five hours. It is [definitely] an experience you want to share with someone. I enjoyed every second of the experience. What I enjoyed the most was the company, the beauty around me, the friendly staff, and [of course] the food.
You start with two appetizers, some fluffy bread and some rose butter. The tasting continues with a Cornish Crab, Berlingots, Burdock Root, Scottish Langoustines (full of flavours), Wild Seabass and Caviar, Limousine Veal [topped with black truffles] or Fallow Deer. Then a Saint-Marcellin. We had a White Millefeuille [a signature dish] and Blackberry for dessert. Afterwards, they were so kind to give the birthday girl another dessert, a birthday cake and some sweets. After five hours of tasting, you get full and fulfilled.
I am very grateful for this experience. If you like to book a table, I suggest booking in advance.
[metaslider id="13852″]
#hellolondon #londonlife #livingabroad #happy #goodvibes #misswidjaja2023 #mwlifeafter35 #hellogems #staycreative⁠ #finedining #londonfoodies #London #london.travelers #lifestyle #drinkstable #londonist #london.travelers #londoning #LaDameDePic #thingstodoinlondon #foodtober #hellofoodie #foodblogger #FourSeasonsHotel #friendship #birthdaycelebrations #twoMichelinstars @ladamedepiclondon