Hello Beautiful Souls! Welcome back to a new blog post about food!
This time it is about a Korean Barbecue called Olle. It is a pretty buzzing place near Chinatown on Shaftesbury avenue.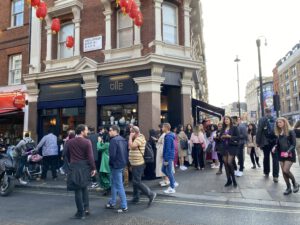 In the past, I had done a Korean Barbeque at KOBA and had a great experience there. So when I went to Korean Barbecue Olle, I knew the concept already. Olle is [more] a communal place where you can have a great time barbequing delicious meat/ fish together with family or friends.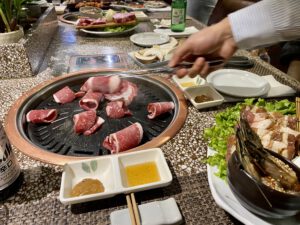 Olle is making life easy for you as a customer. They have three set menus to choose from next to the individual ingredients for the barbecue. As we were just the two of us, we went for selection A, which had a bit of everything. The set menus are a great way to try a bit of all. The one we had chosen had a bit of beef, pork, ribeye slices and some prawns. You can even go for the wagyu ribeye. It is their premium item on the menu.
It is a lovely place to sit and catch up with friends and family. The staff are [very] helpful and help where needed to explain how long an item should be on the barbecue. They even help you out if you forget to pay attention to your barbecue.
A side note is that it is not a great place to go to and do something after, because the smell of the barbecue will penetrate everything. You will completely smell from top to bottom [and all the extras you bring] like the barbecue. For me, this is something to consider if you are on a date, because, on your way home, everyone will know where you have been :P. [A drink afterwards might not be an option anymore] However, with family and friends, it doesn't matter. The food and company are more important, so no big deal smelling like food afterwards. [But don't do it if you are on a date :)]
[metaslider id="6832″]
#hellolondon #londonlife #livingabroad #happy #goodvibes #misswidjaja2022 #mwlifeafter35 #hellogems #koreanbarbecue #Olle #Koreandining #dinner #london #TimeoutLondon #KoreanbarbecueOlle @ollebbq @timeoutlondon