Hello Beautiful Souls! Another lovely fine dining experience at the first restaurant of RAI named Hot Stone. After enjoying the experience at RAI so much, I was delighted to go for another fine dining experience in one of Executive Chef Padam Raj Rai's restaurants.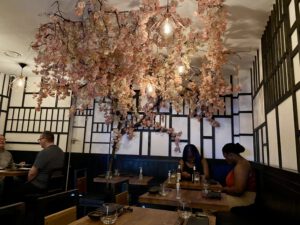 This place is in the heart of London in Islington. It is a small cosy place with excellent services and great staff. [You feel like you are in Japan] As soon as you enter, people are [warmly] greeted by the Chef and all the staff. This restaurant is one of the eight restaurants in the UK, that specialises in and serves Wagyu. Also, it is one of a few that serves freshly grated Japanese wasabi with sushi. [Fresh wasabi is so much better than the paste you usually get with sushi]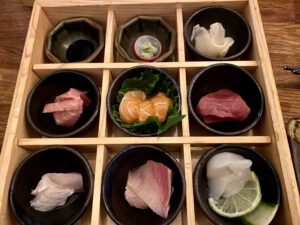 Keep an eye on their website as they offer great deals for their customers once in a while. I was lucky to get a voucher for the Wagyu 4 course experience. This time we went all out and started with a glass of [cold] SAKE with a hand-picked oyster before we had the first course. For the first course, we had sashimi [like RAI, one of the best sashimi in my life]. For the second course, we tried all the options; the crunchy hot stone roll, Salmon cream cheese with plum sauce roll and Seared butterfish sashimi with [truffle spicy] ponzu.
The main course was the Olive fed Wagyu of 100 grams on the hot stone. The hot stone is a lava stone that stays hot for more or less one hour. [It is less smelly than the Korean bbq if I am honest] We finished with a homemade matcha cheesecake, which was heaven and a new favourite for me. If you like fine dining with excellent service, this place will not let you down.
[metaslider id="6882″]
#hellolondon #londonlife #livingabroad #happy #goodvibes #misswidjaja2022 #mwlifeafter35 #hellogems #finedinning⁠ #HotStonerestaurant #Japanesedining #dinner #london #TimeoutLondon #Hotstone #wagyu #4coursewagyuexperience @hotstonelondon @timeoutlondon #london.travellers #londoning