Hello Beautiful Souls! Live music and London are both words you find inevitable in sentences. Wherever you go, you will find [some] live music in most of the speakeasy bars or event venues. These two things are one of the many reasons I love London.
If you go to one, you will find many others live music venues. Judi Jackson, I found it by accident last year during the Brick Lane Jazz Festival. She has an incredible voice and lovely energy. When I found out she was doing another concert later in the year, I had to buy tickets.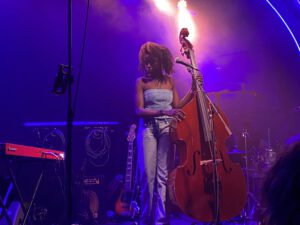 The opening of Judi Jackson's concert was by Amy Gadiaga. She has such a [vibrant] jazzy voice. She sang in English, French and Spanish. A very talented black artist Amy. She is a bassist and singer-songwriter.
After Amy, Judi Jackson came out and gave an energetic performance. I love her new album 'Grace'. LaFayette is a cosy event venue hidden in Goodsway Bar in Pancras Square.
See some highlights of the evening on my Instagram.
[metaslider id="10930″]
#hellolondon #londonlife #livingabroad #happy #goodvibes #misswidjaja2023 #mwlifeafter35 #hellogems #staycreative⁠ #livemusic #eventvenue #lafayette #goodswaybar #jazz #jazzartists #AmyGadiaga #fun #entertainment #London #london.travelers @any.g.adiaga #lifestyle #dateideas #ticketmaster #judijackson #grace @judiljackson #londonist #london.travelers #londoning #thingstodoinlondon #londonblogger