Hello Beautiful Souls, this week's blog post is [kind of] exciting even for meat lovers. 123V is a vegan cafeteria by chef Alexis Gauthier who received a Michelin star in 2011 for his restaurant Gauthier Soho.
Alexis Gauthier became vegan himself in 2016 and decided to change the complete menu to vegan in 2021. This year is when he opened the 123V vegan cafeteria. So far, it is a big success. I want to do the fine dining at Gauthier Soho, but for now, I tried the vegan cafeteria. It was impressive.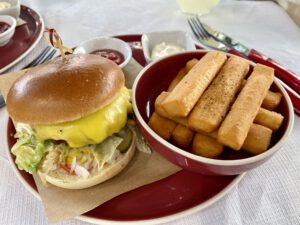 The sushi looked fantastic, but I had to try their famous cheeseburger first with chickpeas fries. As a meat lover, I didn't taste the difference with real meat. It was juicy and as comforting as a real burger. Maybe even tastier because it was half the calories of a real meaty burger. The chickpeas fries were so yummy as well. The entire meal was so filling that I was delighted for hours after lunch.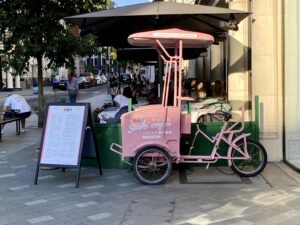 Of course, I had to try a dessert as well. I went for the sorbet with the flavours; strawberry, lemon and mango. The sorbet was heaven! It was so fresh and full of flavours. A tiny side note was that the lemon sorbet was slightly syrupy but still tasty.
If you're in the Mayfair area, you simply must check out 123V, the vegan cafeteria by Michelin star chef Alexis Gauthier. Trust me, this place is so good, even your carnivorous friends won't be able to resist. In fact, they might even become vegan converts after trying some of the mouthwatering options on the menu. So gather your squad and head on over to 123V for a meal you won't soon forget!
[metaslider id="10021″]
#hellolondon #localguide #123V #londonlife #livingabroad #AlexisGauthier #happy #GauthierSoho #lunchideas #misswidjaja2023 #mwlifeafter35 #vegancafeteria #vegancheeseburger #vegansushi #veganfood #vegan #finedining @123vegan_w1 @gauthierinsoho #londonist #london.travelers #londoning #foodblogger #londonblogger