Hello Beautiful Souls! After ages ago [just joking a few months, I guess], I finally went to a restaurant for another fine dining experience. An absolute recommendation this is. I went for lunch at RAI, a Modern Japanese British restaurant. [Thanks to a new friend] The restaurant focuses on omakase-style tasting menus, which means, in other words, leave it up to the chef. It is a fusion concept of the highest quality Japanese dishes with unique ingredients from within the UK and abroad. Believe me, when I say you will not be disappointed.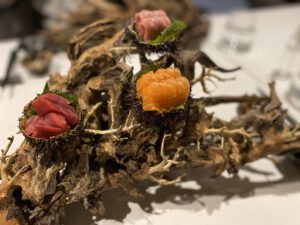 I like that they are focused on sustainability as well. RAI uses a selection of recycled tableware that has been handcrafted from scratch, mostly found on beaches in the UK. Just masterpieces, if you ask me, beautifully crafted. Happy to see one of the owners, Executive Chef Padam Raj Rai, greeting me when I entered the restaurant. The experience could not start any better. Everyone was [very] friendly and helpful.
We were lucky to get our hands on an exclusive openings offer of £49,00 via TimeOut London. [Unfortunately, it is sold out, but keep an eye on their website for other offers] The aged soy sauce and freshly grated wasabi were from another level. These combined with the sashimi [with one of the best fatty tuna ever], I was in heaven. I will have to go back to try one of their other tasting menus with the Wagyu.
[metaslider id="5966″]
#hellolondon #londonlife #livingabroad #happy #goodvibes #misswidjaja2022 #mwlifeafter35 #hellogems #finedinning⁠ #RAIrestaurant #Japanesedining #lunch #london #TimeoutLondon #Sashimi @rai.restaurant @timeoutlondon