Hello Beautiful Souls! Who else is enjoying the food blog posts? This time we are going to one of my favourite boroughs in London, Angel. In this 'small' borough, there is a tiny authentic Japanese restaurant called Tanakatsu. They specialise in Katsu and Teri.
The restaurant is owned and run by a lovely couple named Joe, the executive chef and his wife, Koko, a well-experienced restaurant manager. You can find an excellent variety of Katsu and Teriyaki dishes next to sushi and sashimi.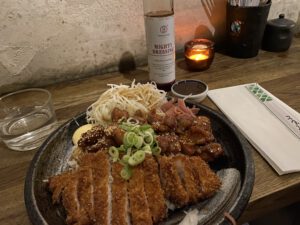 I tried the Katsu & Teri – Yaki combi set with Pork Katsu & Chicken TeriYaki. The mighty dressing you can add to your salad is [very] fresh and tasty. I believe you can buy the salad dressing if you like. The portions are a lot, so you get a lot of value for your pennies. We got some matcha tea afterwards, which is always great after a big meal like the Katsu & Teri – Yaki combi set.
For dessert lovers between us, and also matcha lovers, you can get this matcha cake. The cake is very fluffy with something creamy inside. It is yummy and [luckily] not too big.
#hellolondon #londonlife #livingabroad #happy #goodvibes #misswidjaja2023 #mwlifeafter35 #hellogems #staycreative⁠ #hiddenrestaurants #tanakatsu #katsu #teriyaki #afterworkdinner #dinner #Japanesecuisine #sushi #Angel #London @tanakatsulondon #HELLOFOODIE #londonfoodies #tanakatsu #simplicity #honesty #quality #mightydressing #londonist #london.travelers #londoning