Hello Beautiful Souls! I hope you're doing well. Today, I have an exciting recommendation to add to our Food Corner! Farm Girl is a fantastic option for a quick bite with some coffee, and it can be found in various locations.
Located in South Kensington, Farm Girl is an ideal choice if you are planning to visit the Victoria and Albert Museum. The cafe offers plenty of vegan options to choose from, making it a perfect destination for vegans and non-vegans alike.
Let's talk about their signature Rose Latte. If you're a fan of floral notes, this latte infused with rose water and rose petals is a must-try. You can customize your latte by choosing the type of milk you prefer. Trust me, this beverage is nothing less than heaven in a cup!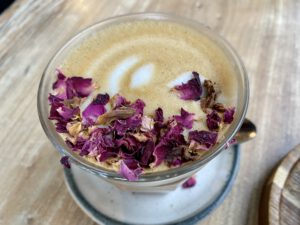 As for their desserts, they are undoubtedly scrumptious. However, if you're not a fan of overly sweet treats, you might find them a bit too sugary. Nevertheless, the quality of ingredients and the presentation of their desserts is something that Farm Girl certainly does not compromise on.
In conclusion, I highly recommend Farm Girl for its exquisite Rose Latte and vegan options. Don't forget to stop by the next time you're in the area. Happy sipping and snacking!
[metaslider id="10421″]
#FarmGirl #SouthKensington #VeganOptions #RoseLatte #CoffeeLovers #VictoriaAndAlbertMuseum #Foodie #FoodCorner #DessertLovers #LondonEats #CafeCulture #HeavenInACup #ScrumptiousTreats #hellolondon #londonlife #livingabroad #happy #goodvibes #misswidjaja2023 #mwlifeafter35 #lifestyleandtravels @farmgirlcafe #londonblogger