Hello Beautiful Souls, a recent visit to this magnificent exhibition of Francis Bacon in the Royal Academy of Arts is one of a kind, such an intense talent in contemporary art. This exhibition was until mid-April in the RA. The RA has many great exhibitions, so keep an eye on their latest exhibitions here. The RA has always been outstanding and displays a great collection of each artist they exhibit. I never get disappointed.
Francis Bacon
I got intrigued when seeing the ad about this exhibition on buses and in the Tube station, that I had to go and see it. It was worth every penny. Francis was such a fascinating artist, who had a lot of inner [dark] struggles. Francis Bacon was born in Ireland. He lived years of his life in London. Just like Picasso, he was successful in art, while he was alive.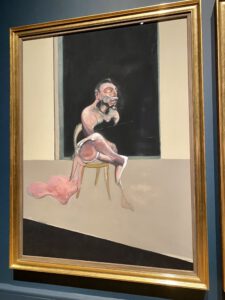 Man and Beast
He was intrigued by the animal nature of humans. His pieces are one of a kind. The art is disturbing and intense, but on the other side, it keeps your attention on the work. The longer you look at his pieces, the more you get a grasp of his emotions and feelings at that moment. One of my favourite paintings is where one of his lovers, George Dyer, is the subject. He made a Triptych of this one. [It is a sad story.] Francis painted this Triptych after Dyer committed suicide. You can see the life slowly melting out of the figure in the painting. The longer you look at it, the more you feel the emotion of death and grief.
If you get an opportunity to go and see another exhibition of Francis Bacon, I would recommend going.
[metaslider id="6028″]
#hellolondon #londonlife #livingabroad #happy #goodvibes #misswidjaja2022 #mwlifeafter35 #Francisbacon #manandbeast⁠ #RA #royalacademyofarts #art #london #contemporaryart #artist @royalacademyarts