Hello beautiful Souls! Another week, another musical. So happy with all the musicals I saw in 2022 till now. Surprisingly &Juliet is one of my favourite musicals by far, next to Hamilton. The story, the feel-good vibes, the jokes and the front row stall seats made the whole night perfect!
Sitting almost front row was magical. Seeing the faces of the performers up close is another level of excitement. I was lucky to see the original cast perform that night.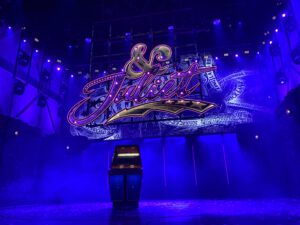 These are the performers of the night; Miriam- Teak Lee [&Juliet], Cassidy Janson [Anne], Oliver Tompsett [Shakespeare], David Bedella [Lance], Alex Thomas- Smith [May], Jordan Luke Gage [Romeo], Melanie La Barrie [Nurse], Tim Mahendran [Francois]. This night was the last weekend of the original cast performing after a few years. [How lucky was I, I saw this musical end of March]
Not going to spoil anything here, but the twist made in the story is brilliant. Finally, we can relate to this story of Shakespeare. I feel some female empowerment here [Go Anne!]. The songs are famous pop songs that you can sing along to and dance to. [I have all the songs on my playlist now] If you want to laugh, dance and sing along, this is the perfect musical to see. Lance and Angelique [Nurse] are just so funny. I fell in love with Juliet and her friends. The songs are added in the story perfectly to make you smile.
[metaslider id="5890″]
#hellolondon #londonlife #livingabroad #happy #goodvibes #misswidjaja2022 #mwlifeafter35 #hellogems #staycreative⁠ #musicals #&Juliet #theatre #entertainment #theshaftesburytheatre