Hello Beautiful Souls! How is it going? I hope you like seeing the weekly food posts about some cool places here in London. Today I am taking you to Coal Office in Kings Cross near Coal Drops Yard.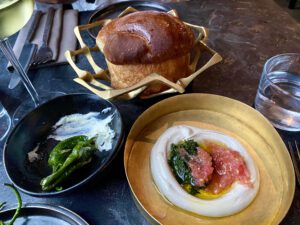 Coal Office is a fine dining experience mixed with the Middle East & Mediterranean cuisine in a modern contemporary setting with mesmerizing interior design by Tom Dixon. The Coal Office is by Chef Assaf Granit and interior designer Tom Dixon. Next to the restaurant, there are some spaces dedicated to events.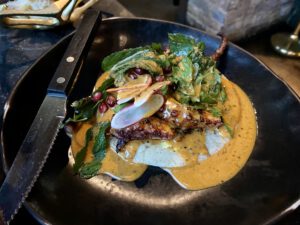 The atmosphere and service are excellent in this place. Lovely music plays in the background. A must-try is the Kubalah bread [brioche], the Iraqi Tropical [Yellow tail sashimi], Bone Capara [Bone marrow] and [of course] the [Octopus] al Lachuh. Order a good wine, and [et voila] a lovely night out with outstanding food and drinks is on its way. You will not be disappointed. [Maybe your bank account a tiny bit, but it is worth every penny]
It is one of the best restaurants so far [for me]. You can even purchase the interior design [especially the lighting is stunning] online on Tom Dixon Official.
[metaslider id="8708″]
#hellolondon #londonlife #livingabroad #happy #goodvibes #misswidjaja2022 #mwlifeafter35 #hellogems #finedining⁠ #interiordesign #CoalOfficeRestaurant #CoalOffice #london #TimeoutLondon #Octopus #Mediterrannean #MiddleEastcuisine #chefAssafGranit #TomDixonstudios #TomDixon @coaloffice @tomdixonstudio #HELLOFOODIE #FOODTOBER