Hey Beautiful Souls and Fellow Foodies! I have something exciting to share with you! For this foodtober, I got the chance to visit not one, but two of the most exclusive and high-end restaurants in town. After La Dame De Pic, Sketch Lecture Room and Library was one of the fine dining restaurants on my to-do list for years. This year it finally happened, and let me tell you, it was a dream come true!
This 3 Michelin star restaurant is truly one of a kind, and the tasting menu crafted by Head Chef Daniel Stucki and Master Chef Pierre Gagnaire was an unforgettable experience. The sommelier even recommended a rare fruity champagne, which was hands down the best I've ever tasted!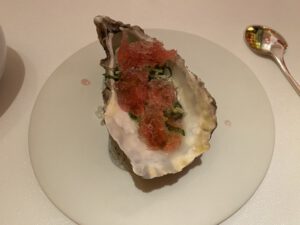 From the [very] first bite, I knew I was in for an incredible culinary journey. We started with the delicious bread and brioche, followed by an Ostra Regal Oyster and a thin slice of Scottish Trout with Oscietra Caviar cream, which was [easily] my favourite dish. And that was just the beginning!
The langoustine tail roasted with liquorice butter, white asparagus with black truffle, and spinach with parmesan were equally delightful. And the Argenteuil ice cream was something very peculiar but magnificent, to say the least.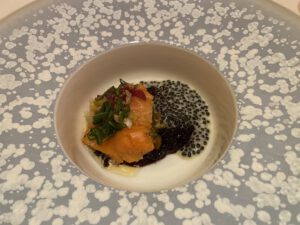 As the night progressed, we savoured the flavours of poached duck foie gras, line-caught cod, clams and green cabbage, sea urchin bisque, Bresse chicken roasted on the crown with citrus and aromatics, a winter salad, and Pierre Gagnaire's grand dessert, which was a feast for the eyes and the taste buds.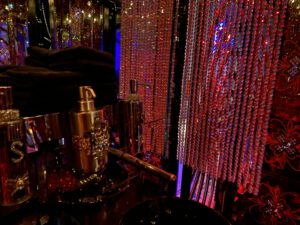 I was pleasantly surprised by how full I felt after all the tastings, but the staff still managed to surprise me with a birthday sweet. Oh, and don't forget to visit the restroom – it's[definitely] worth checking out!
All in all, Sketch Lecture Room and Library was an exceptional dining experience that I will never forget. A [big] thank you to my mom for joining me on this culinary journey and making my birthday so special. So, if you're looking for an unforgettable "foodie" adventure, Sketch is the place to be! It is best to book this experience way in advance.
[metaslider id="14277″]
#Foodtober #SketchLectureRoomAndLibrary #FoodieDreamComeTrue #MichelinStarExperience #finedinning #3michelinstars #londonfoodblogger #londonblogger #misswidjaja2023 #hellofoodie @lrl.sketchlondon