Hello Beautiful Souls and welcome to another foodie blog in foodtober this September. Today, I'm excited to share my recent visit to The Ritz London afternoon tea with my mum on a lovely Sunday afternoon. From the moment we stepped into the hotel, we knew we were in for a divine experience.
The inside of the hotel is incredibly luxurious, and the afternoon tea room is no exception. The beautiful yellow and gold tones create a warm and inviting atmosphere that makes you feel like royalty. We were warmly welcomed by the staff and shown to our table where we were presented with a selection of teas to choose from.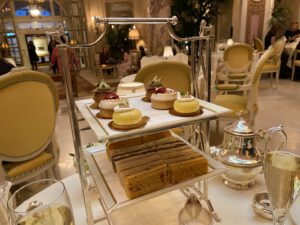 The selection of teas is incredible, and I was intrigued to try something new. I opted for the passionfruit with orange tea, and it did not disappoint. It was the perfect balance of sweet and tangy and went well with the fresh scones, sweets, and sandwiches that were brought to our table.
Speaking of the food, it was delicious! The scones were perfectly baked, and the clotted cream and jam were heavenly. The sweets were beautifully presented and tasted just as good as they looked. And the sandwiches were made with the freshest ingredients and were a delightful mix of savoury and sweet.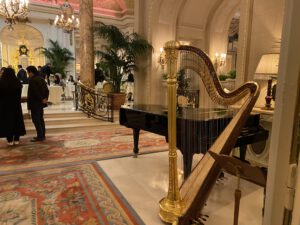 To add to the ambience, a musician was playing the harp and piano, which was the cherry on top of the perfect afternoon. The service was top-notch, and to our surprise, we were presented with a birthday cake to celebrate our special day.
The only downside to the experience was that it was only 90 minutes, which when you're having fun and taking it all in, feels quite short. But fear not, you can take home all the sweets you couldn't finish!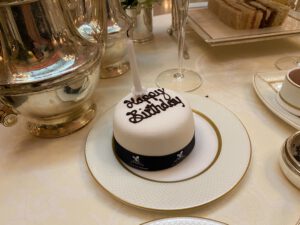 At the end of the afternoon tea, we decided to add a glass of champagne to our experience, which made it even more special. The price for the whole experience was around 92 pounds, which was well worth it for the luxurious atmosphere, delicious food, and excellent service.
As a foodie, I couldn't resist buying the cookbook as a souvenir of a wonderful day. It's filled with recipes for the delicious treats we enjoyed, and I can't wait to recreate them at home.
In conclusion, if you're looking for a luxurious and indulgent afternoon tea experience, The Ritz London should be at the top of your list. From the stunning decor to the delicious food and excellent service, it's a treat for all the senses. Thanks for reading, and I hope you enjoyed my foodie blog post about my visit to The Ritz London afternoon tea.
[metaslider id="14374″]
#TheRitzLondon #AfternoonTea #LuxuryExperience #Foodie #LondonFood #TeaTime #SweetTreats #HighTea #Champagne #HarpMusic #Scones #Sandwiches #Sweets #CookBook #Souvenir #BirthdayCelebration #IndulgentExperience #Foodtober #hellofoodie #londonfoodblogger #londonblogger #misswidjaja23 @theritzlondon