Hello Beautiful Souls! This is unfortunately the last "foodie" blog post for this Foodtober in September, and I couldn't be more excited to share my latest discovery with you all. If you're a fan of fresh pizzas, delicious cocktails, and hidden gems, then you want to check out Happy Face at Kings Cross.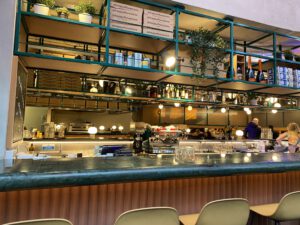 Located in the heart of Kingscross, this Neapolitan pizza joint is a real hidden gem. As soon as you walk in, you can tell that the ingredients are fresh, and that's before you even take a bite of their mouthwatering pizzas. I went for the Salsiccia pizza, and I have to say, it was divine. The toppings were perfectly balanced, and the crust was crispy on the outside and chewy on the inside.
But Happy Face Kings Cross isn't just a pizza place. They also have a fantastic selection of cocktails, and the prices are very affordable for such a top location. I couldn't resist ordering a classic negroni, which was just under 7 pounds. It was the perfect complement to my pizza.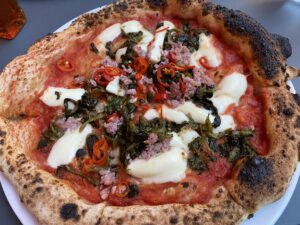 One of the things that [really] impressed me about Happy Face Kings Cross was the staff. They were fast, friendly, and incredibly knowledgeable about their menu. They were happy to make recommendations and answer any questions I had.
But the real hidden gem of Happy Face Kings Cross is their secret bar. Yes, you read that right. If you know where to look, you can find a secret bar where you can enjoy your cocktails in a cosy, intimate setting. It's the perfect place to escape the hustle and bustle of Kings Cross, and it adds to the overall experience.
All in all, I would highly recommend Happy Face Kingscross to anyone looking for a delicious meal, fantastic cocktails, and a fun experience. It's the perfect hidden gem in Kings Cross, and I can't wait to go back and try more of their menu.
[metaslider id="14567″]
#HappyFaceKingscross #NeapolitanPizza #FreshIngredients #Cocktails #AffordableDrinks #HiddenGem #SecretBar #SalsicciaPizza #ClassicNegroni #FriendlyStaff #Foodie #FoodieBlog #FoodBlog #KingscrossEats #LondonEats #Foodtober #Foodtober2023 #Yum #Delicious #InstaFood #Foodstagram #londonblogger #londonfoodblogger @happyfacepizza #misswidjaja2023