Hello Beautiful Souls! Are you enjoying all the food blogs with lots of different restaurant suggestions? I hope you do because I have [still] some left for you. Today I am taking you to CoqBull in Spitalfields Market. You will recognise the restaurant because of the lovely colourful [fake] flowers on the outside terrace.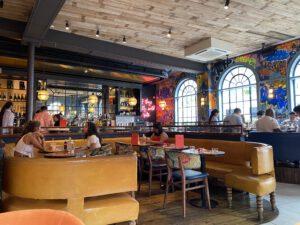 The inside is pretty cool [as well], with lots of street art on the wall and a beautiful kitchen and bar. I think this place is famous for its burgers and wings, but I went for brunch and went [completely] for something else.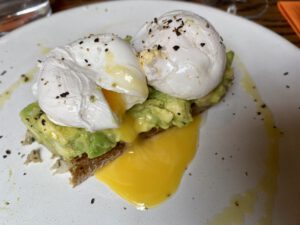 The brunch menu is excellent. I went for the avocado toast with poached eggs and some fries on the side. Technically not sure if you can screw up a toast like this, but it was delicious. Great for a brunch date with friends, dates or family. The fries were super crispy and not greasy, which was a delight to eat.
The brunch cocktails are tasty as well. Try the breakfast martini. It has a lovely fresh flavour. The cocktail did go well with avocado toast. It is a relaxing experience to enjoy brunch here. The staff is [very] friendly and fast.
[metaslider id="9536″]
#hellolondon #londonlife #livingabroad #happy #goodvibes #misswidjaja2022 #mwlifeafter35 #hellogems #staycreative⁠ #hiddenrestaurants #coqbull #burgers #wings #afterworkdinner #dinner #cocktails #coqbullspitalfields #spitalfieldmarket #London @coqbull #HELLOFOODIE #FOODTOBER