Hello beautiful Souls! Are we ready for a spooky weekend? Halloween is around the corner, so what to do around Halloween in London? Here are a few activities that are fun to do around Halloween in the city.
My Halloween journey started last year. Let me tell you; the atmosphere is so lovely! [London is a perfect place where you can be you] Most people are dressed up and have lots of fun.
One of the things I enjoyed last year was a Halloween party at Skygarden. What else do you need than live music, cocktails and a mesmerising view? If you buy your ticket way in advance, the ticket will not be that pricey. Last year I dressed up as a skeleton Dracula. [a little bit of improvisation]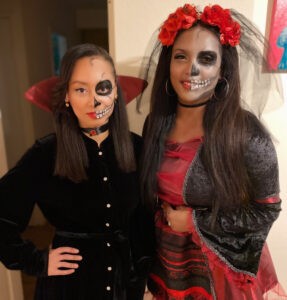 After hours of preparation to get a perfect skeleton face. [This took two hours and a lot of effort] Off, we went to the Skygarden with one of my friends. We had a once-in-a-lifetime experience. What is more exciting than dancing, enjoying and having fun late at night seeing a 360 view of London City? By the way, included in the entree ticket are two drinks; a welcome drink and a cocktail at the bar. Local tip, if you book a table at Darwin Brasserie or Fenchurch restaurant, you can just hop to the party after dinner, no ticket needed. [You're welcome]
Another fun thing to do is go bar crawling in Soho. There are [so] many bars where you can dance and enjoy the Halloween atmosphere. Here you find many people dressed up and looking very scary.
If you are not into bar crawling or a party, there are more scary things to do around this time of the year. Go, for example, on a guided ghost tour. I always wanted to do a Jack the Ripper guided walking tour. Halloween will be the perfect time to do a ghost tour.
Of course, there are many other things to do in London with Halloween. Scary activities that I want to do this Halloween, you [probably] will see next year, the same time – the same place.
Happy Halloween!
[metaslider id="10322″]
#hellolondon #londonlife #livingabroad #happy #goodvibes #misswidjaja2022 #mwlifeafter35 #hellogems #staycreative⁠ #halloween #halloweeninlondon #halloweenatskygarden #london #halloweenatsoho #scary #ghosttour #jacktheripper @sg_skygarden @londonwalksofficial