Hello Lovely people and welcome back! Recently I am working on a lot of paintings. I thought it might be useful for you if you would like to start painting with oils to know some basics. Of course, you can find everything online, but it helps to see this in one blog when buying your basic supply. So after reading this blog, you are ready to be creative and more important to enjoy your first paintings.
BUYING OIL PAINTS
So where do we start? Without oil paints, you can't paint, so we start with the most important part. Buying your oil paints.
I would go for a basic set including these colors because these are the colors you can easily mix and you can get more colors with these by mixing them. I am using artists and premium colors because they feel nice when you use them on a canvas. You don't have to be a professional artist to use good quality oil paint. Of course, it depends on your budget to go for which brands.
Please be aware that there is a difference between student, artist, and premium oil paints. Pictures below are from Walcott Fine Art and this will explain the ratio of fillers, pigments, and oils in the tube.
In the following video;
What Brands of Oil P

aint Should You Buy?
From Walcott Fine Art, Jason Walcott will explain more about which brands are good to buy and use depending on your budget. I think as an amateur painter, I learned a lot about different oil paints and other aspects when painting with oils. Jason and his Walcott Fine Art channel is surely a recommendation if you want to learn more about oils and painting.

The colors that are my basics are the following:

Ultramarine blue
Cadmium Yellow
Cadmium Red
Burnt Amber
Titanium white
With these colors, you can mix a lot of different colors and tones. A tip for mixing colors is to just watch a few YouTube videos where artists explain how to mix colors and after a few tries, you will surely get it.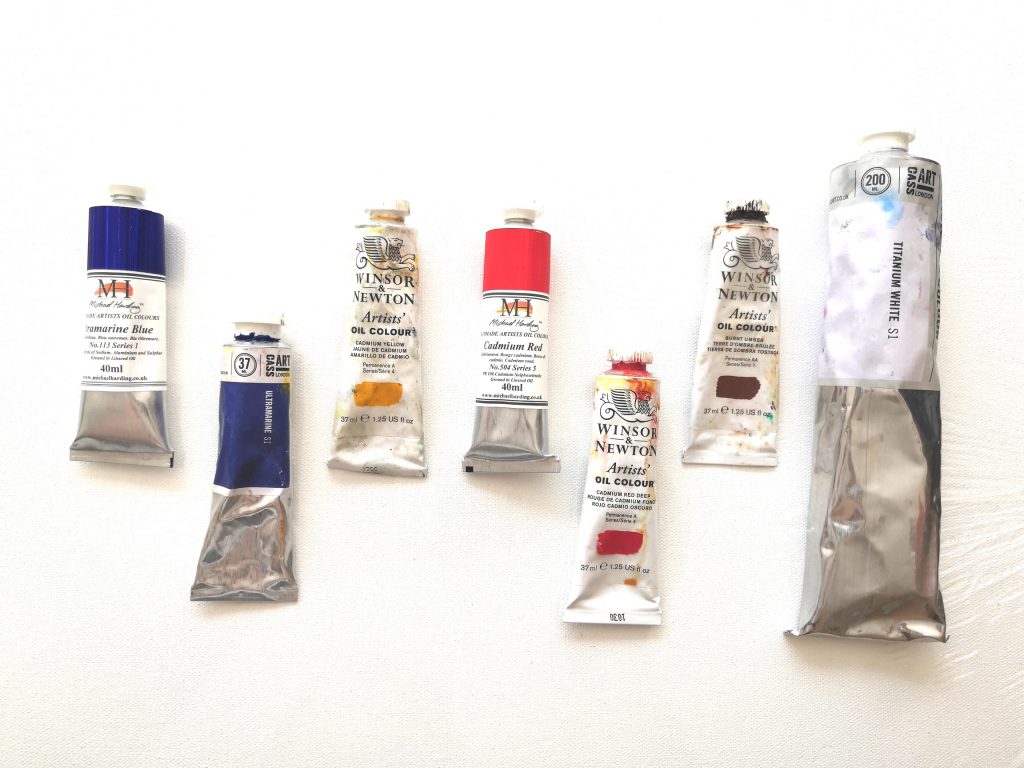 Some other colors that are useful by itself and to mix with are:
Lead White (Michael Harding has a great substitute for it as lead is not that good for you)
Magenta (I just love this color, but a good color to mix with)
Black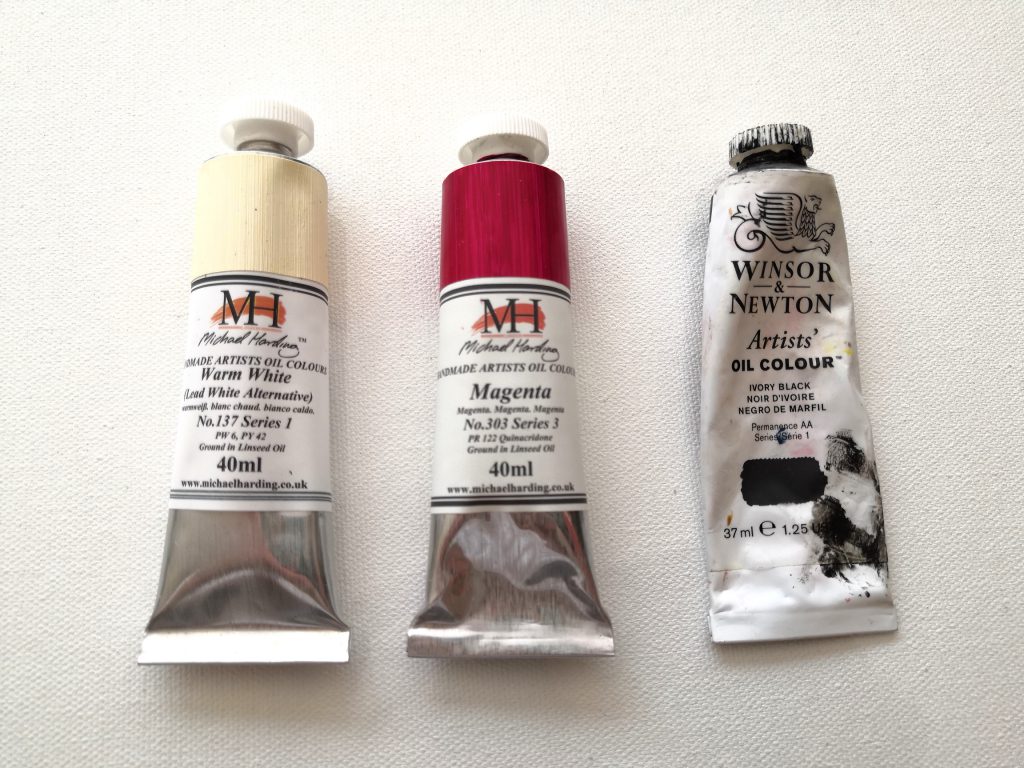 MEDIUMS
Mediums are quite useful for cleaning brushes, but mainly to create different effects with your oils on the canvas and how fast or slow you want the paint to dry.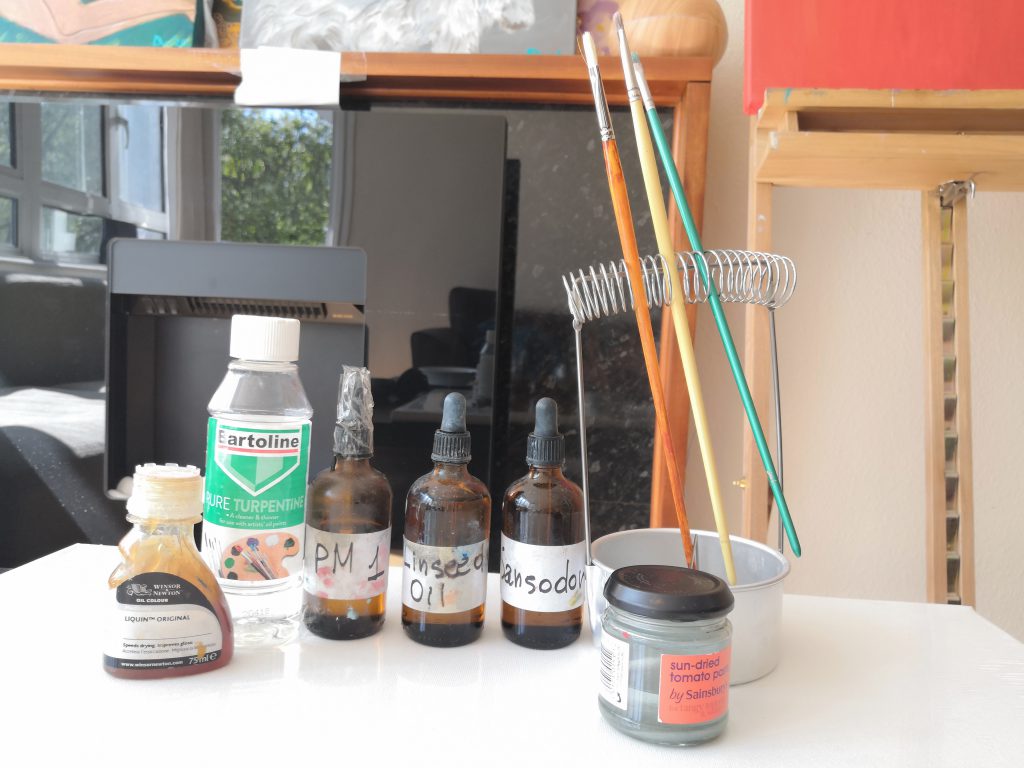 Jason Walcott is explaining Mediums for Oil Painting in his YouTube video which is helpful to understand the difference and what oils can do for you on the canvas.
One basic rule when using mediums is the fat over lean rule. This means that the first layer on your canvas should never be only fat (oil paint without any medium) when you are planning to paint your canvas in a few layers and want different effects on your painting.
Florent Farges from Florent Farges – arts explains the rule and what mediums do very well in this video.
CLEANING BRUSHES
To clean your brushes, use mineral spirits or paint thinner for oil-based paints. I like to use just an old clean and empty glass container or the brush cleaner.
The basic brushes that I use are filbert and flat brushes in different sizes. These are cheap and you can find them in any art shop in any size.
OTHER ART SUPPLY NEEDED
I would say painting on an easel makes life so much easier. You can find easel from 20 pounds or higher. I got mine on eBay for 40 pounds. I found this alternative on Art Discount for a bit more. I like this easel because it is easy to adjust to hights. A suggestion is after the lockdown to check in your local charity shop or buy a used one on eBay. In the past, I saw a lot of easels in charity shops.
Another essential art supply is a good canvas. A canvas you can buy super cheap or premium. I think the Art Discount webshop sells good quality canvasses which are not so expensive. Recently I bought two premium canvasses from there, which are so much better than the canvasses I bought before from Amazon. To practice cheap is better.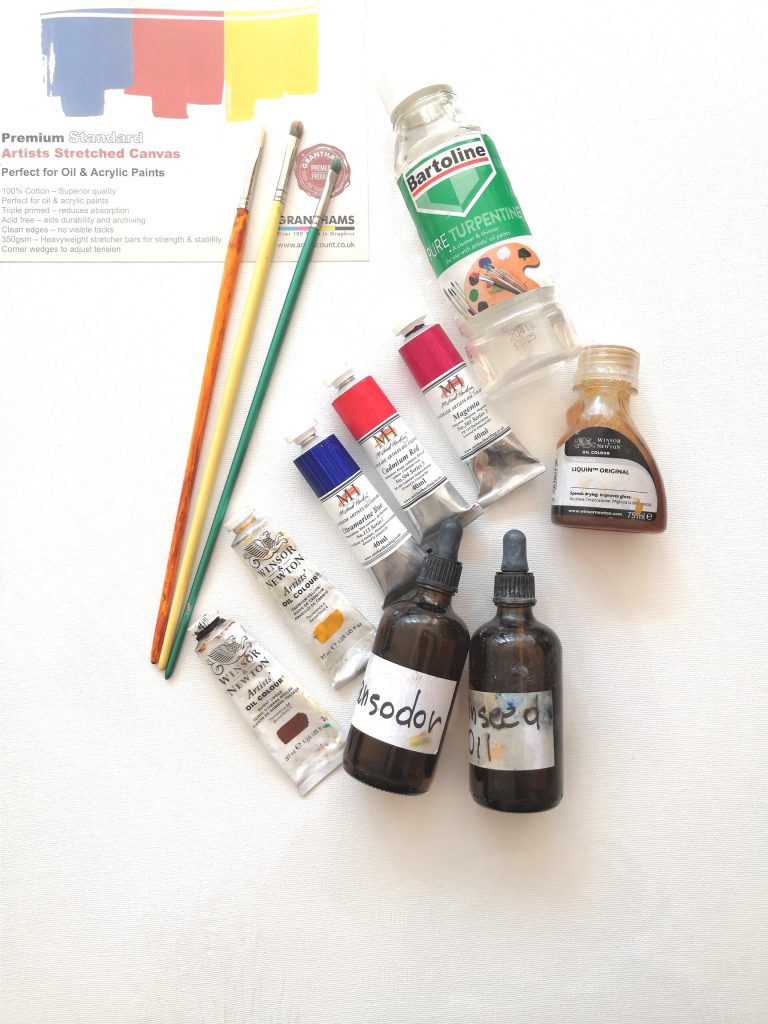 With these basics, you are ready to go! I hope this blog helps you to get started with painting and to explore the creativity that is already inside you. We all have a creative mind!
Remember painting is just for fun. It helps to express your creativity and to relax your mind.
Stay Safe Lovely People x Danielle