Hello Lovely Readers and welcome back to part two of my Italian days' blog. As I mentioned before, part two is about our trip to Laurenzana. Laurenzana is a town in the region of Basilicata. The whole region is surrounded with beautiful mountains and wonderful landscape of mother nature. BREATHTAKING it is!
Hopefully the pictures they do some justice of how beautiful it really is over there. So I apologies in advanced for the many pictures in this blog, but they are all worth to click on and see them in full size. Trust me on this one. By far, the most beautiful place I ever saw of Nature, Mountains and Stargazing at night.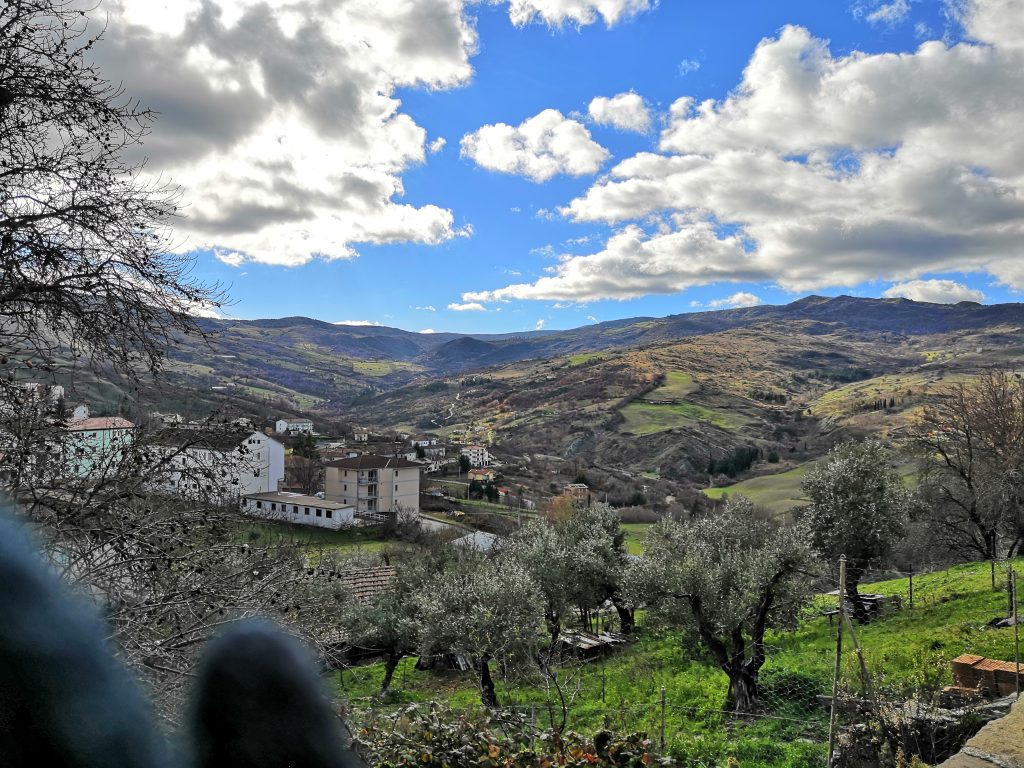 We spend our Christmas holidays in Laurenzana and we went to explore some other villages, towns in Basilicata. As usual grab your favourite tea, relax and enjoy reading !
Laurenzana
Laurenzana is located in the province of Potenza and in the region of Basilicata. It is a really old town as some ruins were found from the 12th and 13th century near the Laurenzana Castle. It is not a touristic place which makes it much more enjoyable to relax and enjoy nature at its best. Already the cold fresh mountain air and the beautiful sky makes you feel like you are somewhere special. It is definitely a hidden treasure.
The first few days we just relaxed and enjoyed the Christmas days with my Italian family. I ate a lot of new and very delicious things. Of course I gain a bit of weight, but that is life, especially around Christmas we can keep our eyes a bit closed. Haha! I like trying new things, so I was ready to taste some great Italian local food. I was not at all disappointed, it was all very delicious!
Laurenzana in the winter can be cold, however we were lucky with the bright sun during almost every day. As soon as the sun left us by the end of the afternoon, the temperature dropped and it was much colder. I think it was always around the 1 or -1 degrees Celsius at night or lower. It feels much colder in the mountains. In every home in Laurenzana, you will find a fireplace. I really like the cosiness a fireplace brings beside the main function that it has. They are very efficient, the only thing that was a bit strange for me is, it smells like fire (burnt wood) all over the town, which in a big city like London or every other big city is not a good sign. Luckily here it is and it means it warm and cosy inside.
What to see in Laurenzana? The town is very small, so it is easy to walk through it. The part where the castle is, is called the Ancestors part of the town. Most likely the oldest part of the town with the Castle on one side and the main Church on the other side. The view from here is amazing. If possible go to this main Church, Chiesa di Santa Maria Assunta and the Castello di Laurenzana and see how beautiful they are from the inside.
Walking through the town gives you so many breathtaking views from the surround mountains, other towns, nature and the sky. I had to stop so many times just to capture it on my camera.
Anzi – Planetarium and Observatory
Anzi is the town on a mountain in the middle surrounded by many mountains and other towns. With only 5% of light pollution, this is the best place for an observatory and planetarium. For fellow stargazers, this is a must see! They organise nights for just ten Euro, where they explain about the galaxy and diverse related topics in the planetarium. After that and this is the best part, you are going to the observatory to see the topic of the night. That night we went, it was regarding the moon and Orion, we even saw a nebula of Orion (amazing right?) through the telescope. For the first time I saw the craters of the moon super detailed. Amazing what you can see through a telescope at the observatory. Unfortunately, the planetarium presentation was only in Italian. It would be great if this was explained in English as well. As a enthusiastic stargazer, I didn't mind so much and I was much more amazed of what I saw through the telescope and from just stargazing into the sky. Might be busier in the summer, which you will have a better change for an English guide/ presentation at the planetarium. Not sure too be honest.
If you are in Basilicata, go a night to this observatory and if you have your own telescope, bring it with you. You will be not disappointed. After the evening, you can just set up your own telescope and see how beautiful the galaxy the WHOLE NIGHT LONG. You will be surprise how many stars and constellations you are able to see (even with your bare eyes).
Castelmezzano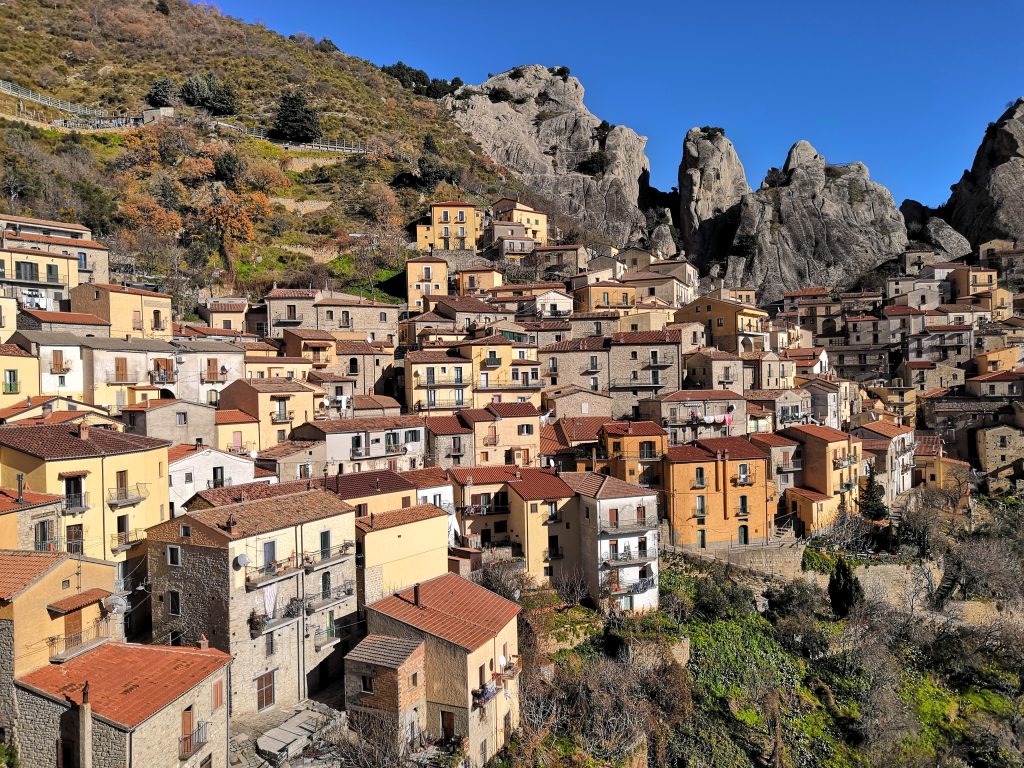 Castelmezzano is a small town not to far from Laurenzana. It is a beautiful village with a Normans Castle. View from everywhere in this rocky town is amazing. From this town you can take the zip line to another town called Pietrapertosa. Open in the summer period. You can find a lot of bed and breakfast facilities here. Great for romantic get aways. Definitely worth a visit if you are in Basilicata. A big plus, a lot of cute cats live in this town for the cat lovers among us.
Matera 
One of the highlights of the trip is this ancient town Sassi di Matera. This city was founded by the Romans in the 3rd century BC. This year 2019, it is declared European Capital of Culture and in 1993 awarded World Heritage Site status by UNESCO.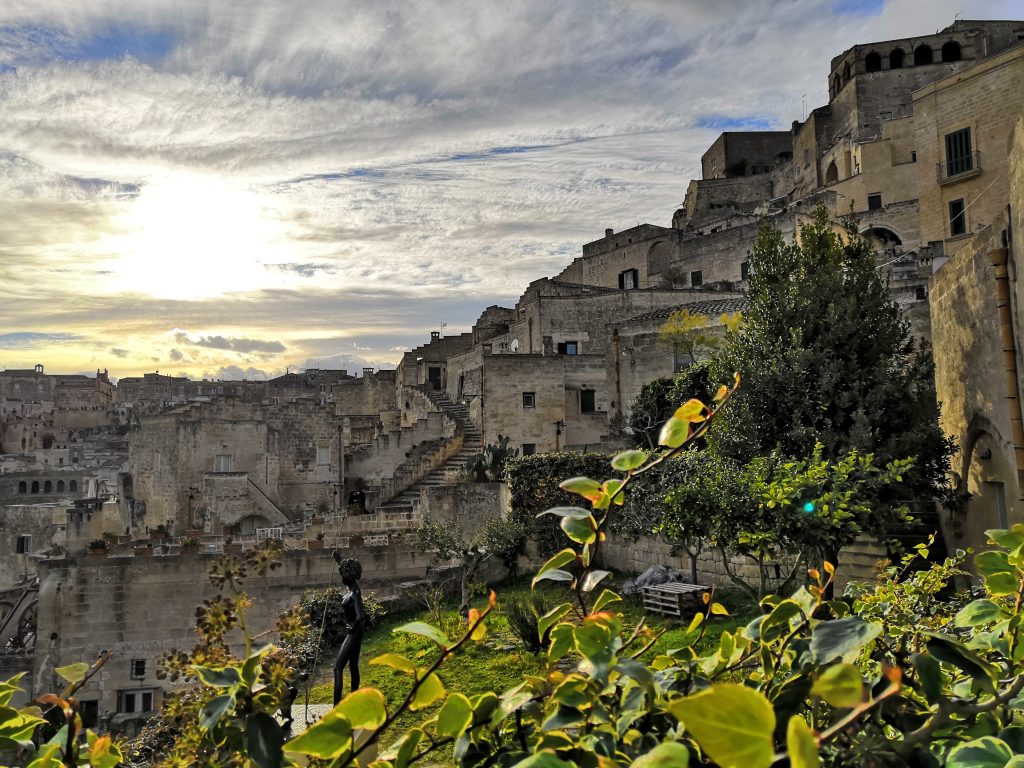 There are two part of Matera the new part, with new modern buildings mainly for the residents of the old part, Sassi di Matera. The city is like an amphitheatre, the lower you go down in to the city, the more you will be surrounded by the beautiful old town, Sassi di Matera. Every corner is amazing. You will find a lot of Bed and Breakfast and restaurants here.
A suggestion is to stay till late or go a second day and stay till late evening. Matera by night and the sunset are very beautiful in this city.
So what to see in this magical ancient city? Of course, go to Sassi di Matera, and see the Matera Cathedral, a Cistern and water collection, walk through the many stairways to heaven. The Tramontano Castle is on the higher side and also a site to see.
Probably you know that Matera was used for many movies as it has an ancient primeval- looking scenery. The latest movie where a part was filmed here, is Wonder Woman 2017.
If you would like to eat in Sassi di Matera, it is a great idea to book a table in advanced. We had a wonderful dinner at Osteria Belvedere al Vecchio Frantoio and in Trattoria del Caveoso. Both in different parts of the ancient city. For the last restaurant we did not book and we had to wait a long time to get a table. Not ideal, but the food is superb. So not complaining at all.
A fun fact is, if you go to Basilicata with the car, you will see on some point near the bridge, coming into the region on your left side, a ghost town Romagnano di Monte. Of course, not if you are the driver of the moment, but for the other passengers, if you look good, you will see an empty town on the cliff of the mountain.
A bit sad that the holidays went so fast, I had an amazing Christmas Holidays with my Italian family. Very grateful for that! I can highly recommend to go to Basilicata and enjoy Mother Nature at its best. This is truly a magical place to visit, also if you have kids. The best place to enjoy spending good old fashion time together and relax. An amazing place to do some active stargazing as well, so bring your telescope if you have one and otherwise no worries, just go to the observatory in Anzi.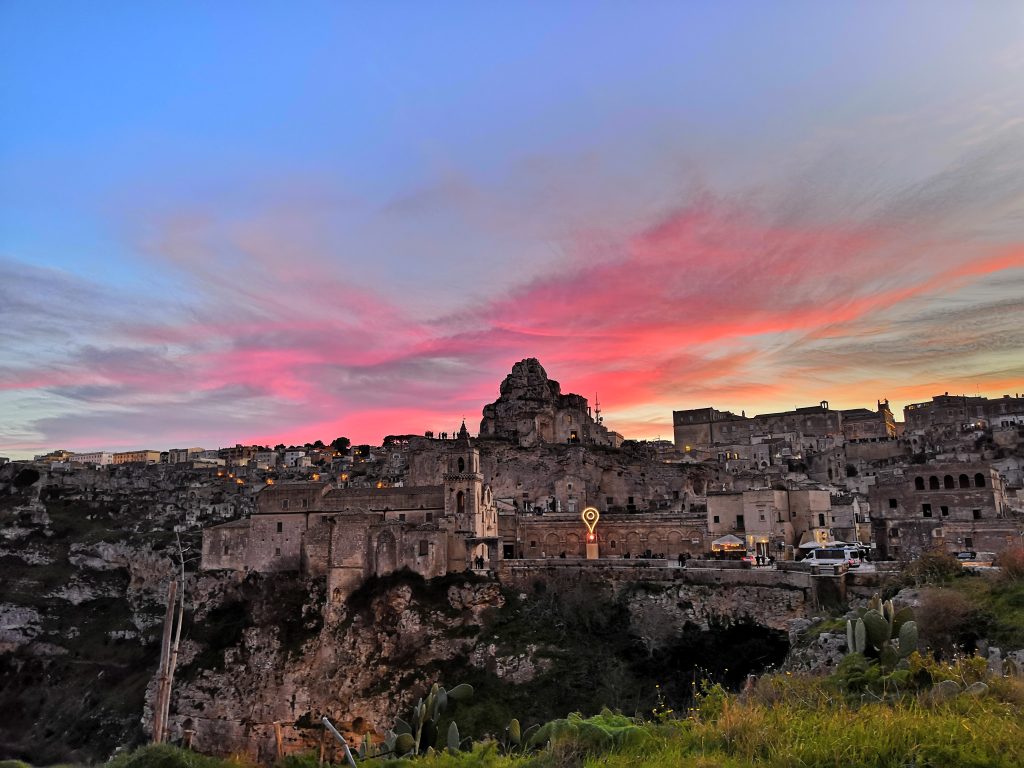 I hope you did enjoy reading my blog and I hope you got inspired to go to the South of Italy.

Miss Widjaja
If you liked what you have just read, please rate this blog with a few stars. If you really know someone who is going to Basilicata or loves Italy, please share on Facebook.
I really appreciate the time and effort you took to read this blog. Thank you!