Hello Lovely Readers and welcome back to my "Hello London" blog. First of all.. Happy New Year you guys! Wish you the best in 2018! This is a blog I wanted to share with you for a while now. Since I have moved to London, I am falling in love with vintage shopping more and more.
There is a vintage shop on my way to work, so I passed by it twice a day. The first time I went in and I was sold! I bought a nice summer maxi dress for £2,-, (That I of course forgot to bring to my holidays in Lanzarote) but it felt so good that I was really proud  I finally could find something nice in a second hand shop.
This is how the vintage shopping journey began and I am still going to this particular shop after work on my way home. (Okay.. not on daily base of course, but I have to say sometimes it is a bit difficult to just pass by this shop without going in) It is one of my favourite vintage shops I have discovered so far.
If you keep on searching you will find really nice quality clothing for a cheap price. Remember this; the key is to keep searching until you find something special!
Today is your lucky day, because I am going to share my top favourite vintage shops with you and some cool findings.
So lets start, get a cup of tea and maybe a pen and paper to take a note of all the good bits.
FARA Charity Shop
Not going to lie, this is the best charity shop ever! They even have a section with designer clothing. In this shop I found many good quality gems. Friendly staff and everything is well organised in sections. I think lots of people donate their good quality clothing here. I also donated a lot of clothing to this shop. Funny to see some of your old stuff hanging around in a shop. It feels good to make some else happy with it.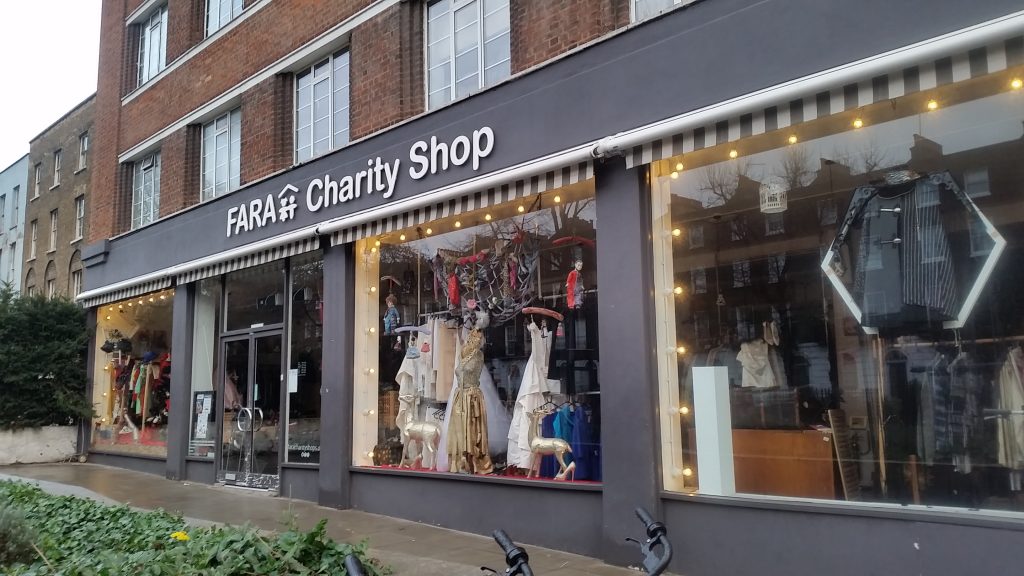 Unfortunately they don't have always good quality clothing, because if they have the good stuff in, it will be gone in a few seconds. That is the reason I am going in on regular basis.
What can you find in this shop? Really everything. Brands like, Burberry, Chanel, Louis Vuitton, Asos, Banana Republic, H&M, Top shop, vintage clothing and many more. It can be different on daily basis. The nicest thing is that even the "best" clothing, like "new" or "hardly worn" or from a "luxury brand" will still be affordable. I saw a Burberry skirt for £10,-. The skirt did not looked worn at all, some nice clothing from Asos / Top shop for usually less than £10,- and the latest thing I saw was a super cool leather jacket from Armani for men. (If it was the size of my boyfriend, I definitely bought it. It was only £25,-)
One of my precious finding was a vintage furry winter coat. Super warm and exactly my size for just £25,-. This was an amazing finding as I was always on the hunt for something like this. In London it can be very useful even if it not so extreme cold this time of year.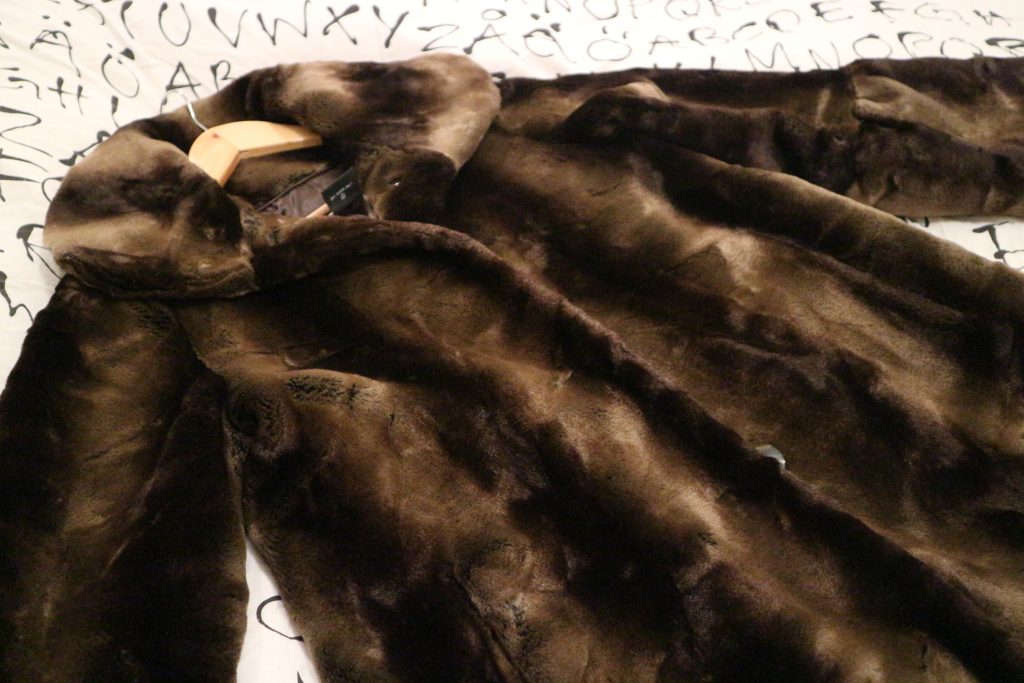 What else did I find in this shop. Let me see… I found some good business trousers from Banana Republic, cute summer jumper from Asos, warm sweaters, a cool leather vintage jacket and a lot of nice tops for work.
Tip: If you have one in your borough, just hop in once in a while.
 
Oxfam Charity Shop
This shop has some great clothing. Unfortunately they sell the clothing a bit overpriced. Tops and sweater are usually around £20,- and if it is from a "luxury brand" it can cost more. If you are asking me… I don't think the pricing is right for cloths that are second hand.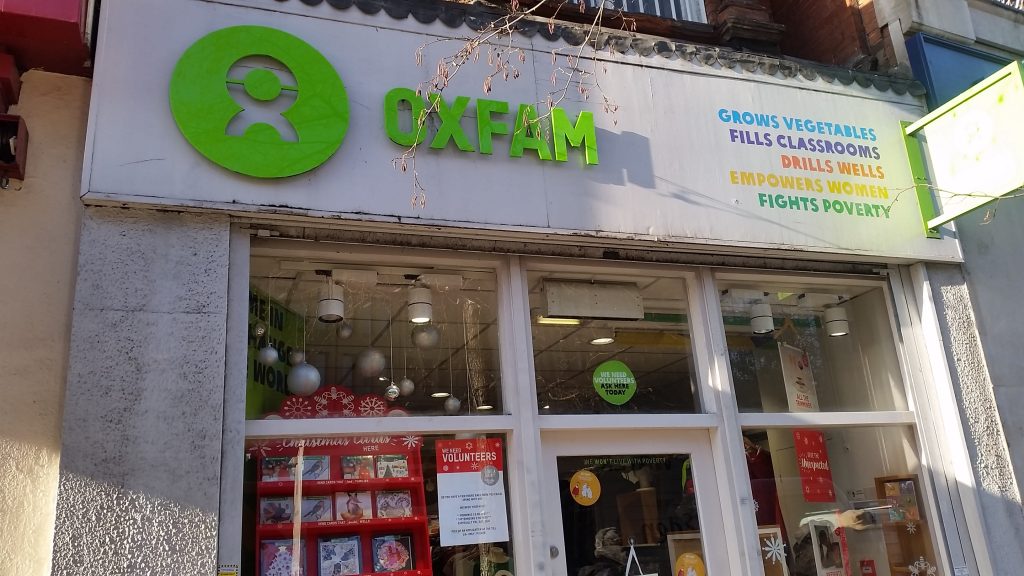 In general they get lots of good donations. I found some old Canon cameras, a Furla bag and many designer tops. Not really the brands that I like. To be honest for the prices that they sell the clothing, I rather buy something new in the high streets. That is exactly what I am trying to do less and less.
Vestiaire Collective Online Shop
This website is really great! It is a like Gum-tree for all your designer goodies. It is perfect platform to buy and to sell designer stuff on. The good part is, they check the authenticity and then send you the item. The delivery can take up to two weeks, if it need to be checked for authenticity. That can be a bit of disadvantage if you would like it as soon as possible.
This platform is also great if you love vintage designer stuff or if you love any particular design(er) that are no longer for sale in stores. For me it is Marc by Marc Jacobs bags from way back. Love those bag, the leather and design are amazing!
I bought one Marc by Marc Jacobs bag on this site as a Christmas present for myself. Surprisingly they are not so expensive anymore and if you check.. you can find a lot that are hardly used. Just received it and it looks amazing! Almost like new and exactly what I was imagining. (Picture will be on Instagram soon)
Moving slowly to Sustainability
Before moving to London I got rid of almost eighty percent of my closet in the Netherlands.
A lot of clothing that I did not even wear, but collected over years. To be honest the twenty percent that I brought with me is still a lot. (Still trying to get rid of a few items) Even here in London, I am still giving clothing away to the charity shop and it is making me happy. Most of the clothing that I own are really well maintained, so if I can make someone else happy with it, why not? My closet needs to get smaller and smaller and I like that thought of less clothing but trying to have better  quality clothing.
Okay, I am not perfect. I still buy some stuff in stores, but not so much since I moved to London. Mainly if I am on holidays and I need something. I still need to be better at packing for holidays in a carry on bag. Some items I will always buy on the high streets are swimwear and underwear.
Even if I go shopping now, I usually come home without anything. (Except if I go to the vintage shop 🙂 ) I am realising I don't need anything anymore and if I want it.. I will think twice to get it or not. Usually this helps to not buy it.
So, If I keep this up.. I  have more quality clothing that I actually will wear over and over again.
If you know any charity / vintage shop that I should go to in London.. Please let me know!
Hope you liked this blog and till next time.
See you! ♥ Miss Widjaja