Hello Beautiful Souls! Another fun thing to do with friends is to play games in the city. Why not go for the immersive version at Immersive Gamebox? We had a lot of fun with all the colleagues in the office playing the Trivia Mashup.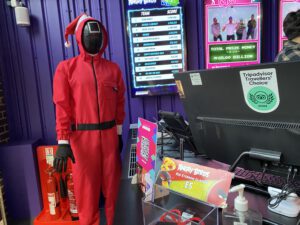 Immersive Gamebox offers games on social adventures in a "smart" room. Each room has motion tracking, projection mapping, a touch screen, and surround sound.
Each game is about 30 minutes. There is a lot of interaction going on. There are also so many options for games to play. It is a place for fun for young and old. You can even play the immersive version of Squid Game.
[metaslider id="11074″]
#hellolondon #londonlife #livingabroad #happy #goodvibes #misswidjaja2023 #mwlifeafter35 #hellogems #staycreative⁠ #immersivegames #immersivegamebox #christmasparty #officevibes #afterworkdinner #teamevent #citygames #southwark #londoning #london.travels @immersive.gamebox #helloentertainment #londonist #london.travelers #londoning #thingstodoinlondon