Hello Beautiful Souls! Today, I want to share with you my amazing experience watching the musical Newsies. I had no idea what the musical was about, but I went in with an open mind, and I was blown away by the incredible talent and energy on stage.
Newsies is a fun musical with lots of dance numbers that reminded me a bit of West Side Story. It tells the story of the musical film Newsies, which was inspired by the real-life Newsboys Strike of 1899 in the city of New York. The show features music by Alan Menken, lyrics by Jack Feldman, and a book by Harvey Fierstein, which is based on the film's screenplay by Bob Tzudiker and Noni White.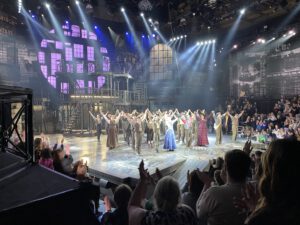 The performers in Newsies were simply outstanding. They brought so much passion and energy to the stage, and their dance numbers were breathtaking. It was amazing to see how they told the story through their movements and expressions, and the chemistry between the actors was electric.
One thing that stood out to me about Newsies was the incredible set design and costumes. The show was set in the late 1800s, and the attention to detail in the set and costumes was incredible. It truly transported me back in time and added another layer of immersion to the already fantastic performance.
Overall, my experience watching Newsies was simply awesome. The talent, energy, and passion on stage were infectious, and I left the theatre feeling uplifted and inspired. I would highly recommend this musical to anyone looking for a fun and exciting night out at the theatre.
In conclusion, if you're a fan of musicals or just looking for a fun night out, then Newsies is the perfect choice. With its incredible talent, catchy music, and stunning set design, it's a performance that you won't want to miss.
[metaslider id="15199″]
#NewsiesMusical #MusicalTheater #Broadway #TheaterLife #PerformingArts #DanceLife #WestSideStory #NYC #NewYorkCity #NewsboysStrike #AlanMenken #JackFeldman #HarveyFierstein #BobTzudiker #NoniWhite #StagePerformance #SetDesign #CostumeDesign #Talent #Passion #Energy #Inspiration #FunNightOut #GoodVibes #InstaMusic #InstaTheater #InstaGood #InstaLove #MemorableExperience