Hello Beautiful Souls. It is time for another musical! This time it is a musical I already saw in 2020 and once in the Netherlands. Originally this was a birthday gift, but with a change of plans, I was lucky another friend could join. I booked stall seats to see it from upfront. It was stunning!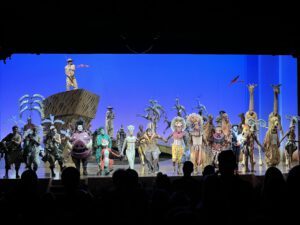 The Lion King is a very significant musical. Today [The day we went in July] was full of children in the theatre. It is surprising [to me] to see people who are there for the first time being mesmerised by the show. It was spectacular and funny as each time with Timon and Pumbaa.
If you want to see one musical with young ones [when you are in London] go for this one. You will have as much fun as your young ones.
[metaslider id="9155″]
#hellolondon #londonlife #livingabroad #happy #goodvibes #misswidjaja2022 #mwlifeafter35 #hellogems #staycreative⁠ #musicals #TheLionKing #theatre #entertainment #LyceumTheatre @thelionkinguk #simba #nala #timonandpumbaa #mufasa #londoning #london.traveler #londonist #thingstodoinlondon