Hello Beautiful Souls! Just three days away from Christmas. Are we excited to celebrate the festive days with loved ones, friends, family or even by yourself? I know I am. I am spending time with my lovely family in the Netherlands for Christmas. The Beautiful Souls in or heading to London these days are lucky because I have some "special" Christmas content for you. Next to The ultimate guide to see Christmas lights in one day [last week's blog post], I am showing you some festive Christmas markets in central London this week.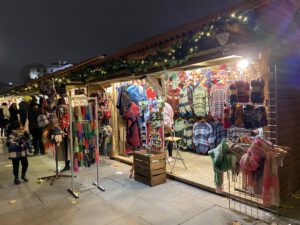 The first Christmas market is on Trafalgar Square in front of the National Gallery and the Norway spruce Christmas tree. Did you know Norway is giving a native spruce for Christmas to thank the UK for its support during World War II every year? Me neither, so now you know.
This Christmas market has the original Christmas spirit with lots of German snacks and drinks. Strolling on this market can't go wrong with a tasty German bratwurst and mulled wine in your hands. If you still need [some] Christmas gifts, then this is the perfect place for you.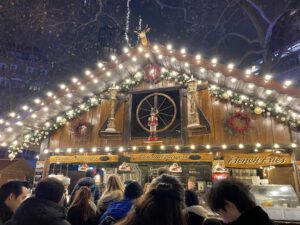 The second Christmas market is in Leicester Square. This market is also a lovely festive market with a jolly Christmas soul. [In the end,] all Christmas markets have the same "Christmassy" feeling with similar food and merchandise stalls. They are all still enjoyable, but this one in Leicester Square might be the busiest [of them all].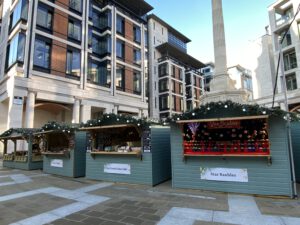 The third Christmas market is a hidden market on Paternoster Square near St. Paul's Cathedral. This market is open till the 23rd of December so start with this market if you plan to stay for a few days. There are not a lot of stalls here, but you can get [some] gourmet street food next Christmas gifts and crafts.
I hope you enjoyed the Christmas blog posts here. I wish every one of you a delightful cosy Christmas!
[metaslider id="11307″]
#hellolondon #londonlife #livingabroad #happy #goodvibes #misswidjaja2022 #mwlifeafter35 #christmasinlondon #3hollyjollychristmasmarkets #trafalgarsquare #leicestersquare #St.Paulscathedral #paternostersquare #london.travelers #thingstodoinlondon #londres #londonuk #visitlondon #londontravel #londonthingstodo #xmas #londoning #ultimateguide #christmasmarkets #bratwurst #mulledwine #christmasmarketsinlondon #christmasmarketzone1