Hello Beautiful Souls, here is another lifestyle blog post just for you! One of my favourite DJs was performing at Finsbury Park, so when I found out Solomun was djing, I just had to go.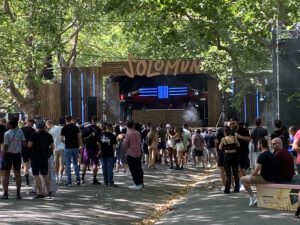 This event was on a lovely summer day in August '22. We had early bird tickets, so we had to be there around 2 pm. Luckily, many people came early, so it was already getting busy around that time. The music from the beginning was fantastic. Majdo and KrankBrother did a great job of getting everyone in the mood. It reminded me of the atmosphere of a good summer festival with amazing vibes. Everyone was super chill and lovely.
Finally, around six o'clock, Solomun arrived and took over the decks. The time we spent at the festival was very much enjoyable. I danced a lot and had great food. The only thing I didn't like was the vaping and all the smoke at the park. It affected me when I left the park. My voice was gone. Luckily the next day, it was all fine again.
To listen to Solomun, Majdo and KrankBrother from this day, go to my Instagram and see the highlight.
[metaslider id="9921″]
#hellolondon #londonlife #livingabroad #happy #goodvibes #misswidjaja2022 #mwlifeafter35 #hellofestival #staycreative⁠ #funweekend #friends #FinsburyPark #Solomun #Majdo #KrankBrother #RA #SolomunOpenAir #summerfestivals #bonecalondon @solomun @_krankbrother_ #londonist #RAguide #londonist #london.travelers #londoning #londonblogger