Hello Beautiful Souls! This week in the food corner, a food hall called Arcade on New Oxford Street near Tottenham Court Road Station. Have you ever found yourself in a sticky situation with your friends where no one can agree on where to eat? Fear not, because Arcade Food Hall on New Oxford Street has got you covered! With twelve food stalls to choose from, everyone is sure to find something they love. Once you are in, you can order via a barcode and pay online. Super easy.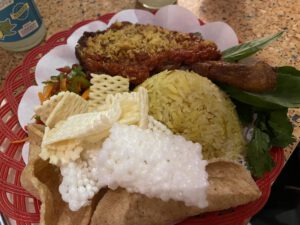 Now, let's talk about the star of the show: Bebek! Bebek! This Indonesian street food stall uses fresh ingredients straight from the chef's farm in Dorset, so you know it's legit. You can choose from crispy chicken, duck (or "Bebek"), or aubergine with some tasty sides like turmeric rice, veggies, and sambal. The crispy chicken gave me serious Jakarta street food vibes, and the beef sate with peanut sauce was a real crowd-pleaser too.
But don't just take my word for it, go back and try one of the other food stalls too. Who knows what kind of food adventure awaits? And if you're a vegan, don't worry, they've got plenty of options for you too. So why not hit up Arcade Food Hall and indulge in some delicious eats? Your taste buds (and friends) will thank you.
[metaslider id="10358″]
#hellolondon #londonlife #livingabroad #happy #goodvibes #misswidjaja2023 #mwlifeafter35 #hellogems #streetfood #indonesianfood #Arcadefoodhall #bebekbebek #london #TimeoutLondon #HELLOFOODIE @bebekbebek_ldn @arcadefoodhall @lukiefarrell #londonist #london.travelers #londoning