Hello Beautiful Souls, I hope you had an 'awesome' week and are ready for this weekend. This post might not be for everybody, but it is definitely for the theatre/ musical lovers between us.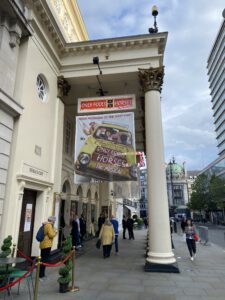 The musical I saw this June was 'Only Fools and Horses' the musical. I had no idea what the story of this musical was. After some research, I found out that the musical is 'based' on a site com with the same name that began in 1981. Without any reference for me, I still enjoy watching the musical.
So if you are up for some British [old] humour, this is it! Surprisingly I got some jokes here and there, which made me super proud. It seems like I learned a thing or two living here in London.
#hellolondon #londonlife #livingabroad #happy #goodvibes #misswidjaja2022 #mwlifeafter35 #hellogems #staycreative⁠ #musicals #onlyfoolsandhorsesthemusical #theatre #entertainment @ofahmusical