Hello Beautiful Souls and hiking fans! Oh yeah, we did another hike. This time I went with a group of [professional, joking] hikers and a friend to St. Martha hill in Surrey and walked along the river WEY.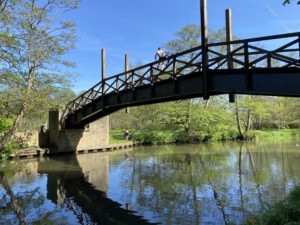 For a [semi- pro] hiker like me, the route we walked to the St. Martha hill was long. Up a few hills to finally see the stunning panoramic view. All I can say is it was worth the huff and puff on the way. In the end, [after 19 km] I finally reached the local pub with the other hikers for some refreshing ciders and beers.
If you are looking for a hiking group, I can recommend going to the MeetUp app. On this Meetup app, you can find many hiking groups organising trips to different locations in or outside London. Great way to enjoy hiking and meet new people.
[metaslider id="7919″]
#hellotravel #londonlife #livingabroad #happy #goodvibes #misswidjaja2022 #mwlifeafter35 #hellogems #staycreative⁠ #hiking #StMarthaHill #theriverwey #meetup #hikinggroup #nature #meetingnewpeople