Hello Beautiful Souls, Welcome back to another travel blog post, this time to Canterbury. I never realised to visit this beautiful picturesque city of Canterbury before. However, I am [very] happy I did. A return by train will cost you around £40,00 and most likely by bus will be cheaper.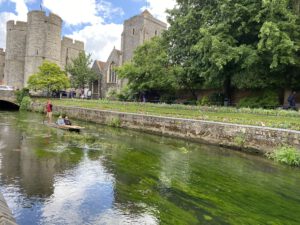 Once you arrive at the station, you will be blown away by the peacefulness and architecture. Some peculiar houses look [very] pretty in this city. They remind me of the Liberty here in London and [some other] similar buildings in Oxford.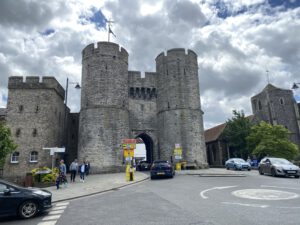 Walking towards the city centre, you will bump up against this giant Westgate. This gate is the largest city gate that survived in England. Up to the right, you find the lovely canal and parks. Have a walk through here as you will discover a lot of [old] buildings. If you go to the park, there is a point where you have a panoramic view of the old town. At the park, you will find the ancient Roman city walls. Like every other city wall, they have been there to protect the people in the city.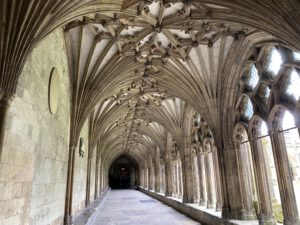 My highlight of the day trip was the Canterbury Cathedral. The Cathedral is part of a UNESCO World Heritage Site. It was built in 1070 and became a pilgrimage after the murder of Archbishop Thomas Becket. I was lucky to have come in at the right moment when an orchestra did practice some beautiful [musical] songs in the Cathedral accompanied by the Cathedral organ. The sound is mesmerizing! Exploring the Cathedral takes time. Don't forget to go to the bottom section of the Cathedral, where you will find the Crypt. Here you can find some medieval graffiti and some pieces of frescos from 1200.
A fun thing to do with friends, family or date is to go punting and explore the city and history on the canals. We went to the Mooring cafe bar and had a scary tour with Quinten.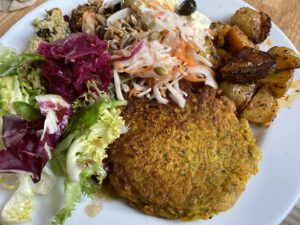 [As a healthy option for lunch] We went to The Veg Box Cafe. They offer a broad selection of plant-based items on their menu. If I am honest, I had a great salad with fritters which filled me up till dinner.
So if you like to spend a lovely day not too far from London, Canterbury is a excellent option.
[metaslider id="7367″]
#canterbury #londonlife #livingabroad #happy #goodvibes #misswidjaja2022 #mwlifeafter35 #hellogems #daytrips⁠ #canterburycathedral #citywalls #Romanperiod #punting @the_mooring_  @thevegboxcafe