Hello Beautiful Souls! Have you tried any of the suggestions at my food corner? There is everything for everyone. Today's gem is in Battersea, called Nutbourne.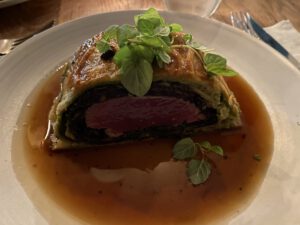 The Nutbourne is a picturesque farm-to-fork restaurant near Battersea Park. A signature is the use of seasonal game dishes. One of the heavenly dishes I tried was the venison wellington. Some starters we ate were pumpkin soup and iron boar chipolatas.
This restaurant uses seasonal and sustainable products from its family farm in West Sussex. If you want something different and sustainable in a cosy place, go to Nutbourne. Excellent restaurant for dates and mainly for meat lovers.
[metaslider id="10670″]
#hellolondon #londonlife #livingabroad #happy #goodvibes #misswidjaja2023 #mwlifeafter35 #hellogems #staycreative⁠ #hiddenrestaurants #nutbourne #wild #venison #afterworkdinner #dinner #dates #sustainable #familyfarm #London @nutbourne_resto #HELLOFOODIE #WestSussex #venisonwellington #londonist #london.travelers #londoning #thingstodoinlondon