Hello Beautiful Souls! This week's blog post will be my first play here in London. I am [a bit] biased because it was my first play, but it was INCREDIBLE. At the lovely theatre of Barbican I saw; My Neighbour Totoro.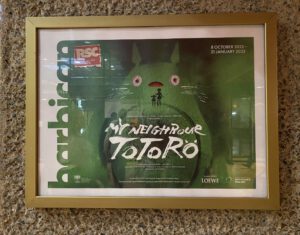 My Neighbour Totoro is a Japanese anime written and directed by Miyazaki. [One of the greatest writers/directors in anime] The anime was done by studio Ghibli. The story is about a young professor and his two daughters [Satsuki and Mei] and their experiences with some pleasant spirits in the woods.
The play was done brilliantly by the cast, Joe Hisaishi and the Royal Shakespeare Company. The little girl Mei was [exactly] like the animated Mei. The complete production did an excellent job, making you relive the story and laugh. The stage decor was magical. You [definitely] fall in love with Totoro and his friends.
This play is till January 2023, so if you have a chance to see it go! To find tickets click here. I am so happy I went and enjoyed every minute of it.
[metaslider id="10289″]
#hellolondon #londonlife #livingabroad #happy #goodvibes #misswidjaja2022 #mwlifeafter35 #hellogems #staycreative⁠ #play #myneighbourtotoro #theatre #entertainment #totoro #japaneseanime #Mei #Satsuki #Miyazaki #RoyalShakespeareCompany @totoroshow @barbicantheatre