Hello Beautiful Souls, it is time for another weekly blog post about my experiences here in London. [Whoop Whoop] In this week's blog post, I want to take you to the Underbelly Festival at Cavendish Square here in London. The Underbelly festival was on a beautiful sunny Friday evening in July. The show that I went to was Yummy Iconic in the Spiegeltent.
The Yummy Iconic drag show was outstanding. This show was my first time seeing a drag cabaret show. It was amazingly inspiring that these lovely talented people are so confident and honest in who they are.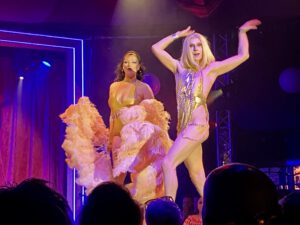 I admire anyone who knows who they are and express themselves in whatever way feels comfortable. It shows such confidence. The performance of each Yummy was incredible.
The Yummy Iconic incorporates a lot of drag, dance, circus, and burlesque in their shows. I wish there were some drag workshops where they teach you how to express yourself in any way. I am checking online if there is any. [Because I need this in my life] It would be such a valuable workshop for children where they have a way to express themselves.
If you want to feel good, have fun and see an outstanding show, this is it! I recommend to anyone to see a cabaret show like this at least once in their life. For me, I can't wait to see more of this. To see some bits of the show, go to my Instagram highlight by clicking here.
[metaslider id="9614″]
#hellolondon #londonlife #livingabroad #happy #goodvibes #misswidjaja2022 #mwlifeafter35 #hellogems #staycreative⁠ #cabaret #yummytheshow #theatre #entertainment #underbellyfestival #cavendishsquare @yummytheshow @underbellyfest