Hello Beautiful Souls! This Friday's blog post is about a spectacular musical I saw at the end of November 2022, Moulin Rouge! The musical is about a 2001 film of the same name.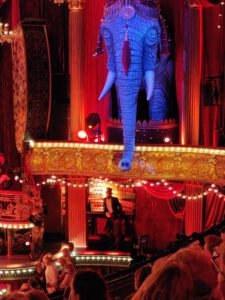 As soon as you enter the theatre, you will be immediately awed by the magnificent stage. The prominent blue elephant is on the right-hand side. Opposite the elephant, you see the famous red windmill. You will feel like you are in Moulin Rouge. One of the best things is the seats. There are a lot of heights between rows, so it is not annoying if someone tall is sitting in front of you.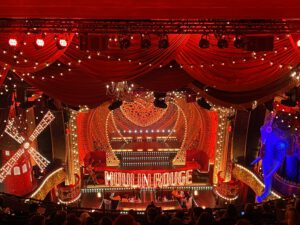 It is a jukebox musical, which makes it so much fun because you will know most of the [popular] music songs. It is a bit like &Juliet with lots of humour as well. Just before the beginning, you will see the cast slowly coming onto the stage with their beautiful burlesque customs. You will get a few minutes to snap some pictures. 
The tickets for this musical can be expensive. I saw this from the Grand Circle this time. It was perfect! Try to find tickets on TodayTix or Ticketmaster. They usually have great offers. Just make sure to sit somewhere in the middle. 
Some pictures on this blog are from a friend, who was [a bit] closer to the stage. 
[metaslider id="10844″]
#hellolondon #londonlife #livingabroad #happy #goodvibes #misswidjaja2023 #mwlifeafter35 #hellogems #staycreative⁠ #musical #moulinrouge #moulinrougethemusical #redwindmill #blueelephant #londonmusicals #West-End #fun #entertainment #London #london.travelers @moulinmusicaluk #lifestyle #dateideas #ticketmaster #todaytix #jukeboxmusical #BelleEpoque #Satine #sparklingdiamond #christian #londonist #london.travelers #londoning #thingstodoinlondon #musicalmonth23 #musicalmonth #musicalJune