Hello Beautiful Souls! Welcome back to another food blog post for this foodtober. This time we went to a Burmese restaurant called Lahpet. Lahpet has two restaurants in London. There is one in Shoreditch [since 2018] and one in West End, Covent Garden [since 2022]. I never had [authentic] Burmese food before, so I was [very] excited to try this one out.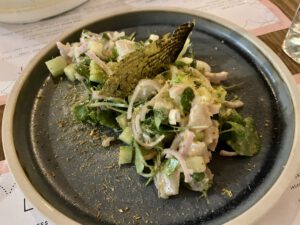 Dan Anton and head chef Zaw Mahesh, both of Burmese heritage, have founded Lahpet. The restaurant in West End [where I have been] looks polished and fancy. Great place to go with a date or friends. The name Lahpet means "tea" in Burmese. There is a signature tea leaf salad [Lahpet Thohk] that you can get as a starter. Another [more] refreshing starter is Andaman Ceviche. I went for something meatier, the Pork belly & sour bamboo curry with some plain rice on the side. The pork belly was [very] tasty, but you get a lot, so no starters are needed with this one.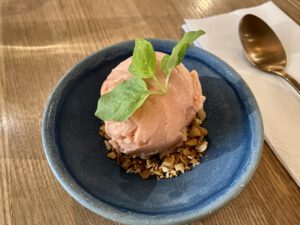 For dessert, we went for the Banana Parfait and [I went for] a delicious Guava sorbet. One of the best sorbets I had. It was so tasty and yummy. The presentation of each dish looks so sophisticated and perfect for taking a [quick] picture.
[metaslider id="8482″]
#hellolondon #londonlife #livingabroad #happy #goodvibes #misswidjaja2022 #mwlifeafter35 #hellogems #finedinning⁠ #Burmesekitchen #authenticBurmesefood #lahpetwestend #london #lahpetshoreditch #Lahpet #tea #Burmese #Myanmar #Burma @lahpet #HELLOFOODIE #FOODTOBER