Hello Beautiful Souls to Foodoctober! If you are a regular visitor of my post, you will probably remember this place from the title. As this is my second time at the Gallery in Sketch and I hear you thinking, why again? The main reason is that they redecorated the Gallery from a beautiful Instagrammable pink room to a mesmerizing yellow hue room [also very Instagrammable]. Of course, I had to visit again and was lucky enough my cousin wanted to join [this was her first time].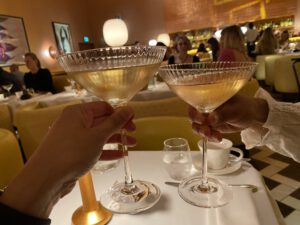 To read all about the afternoon experience, please go back to the original blog post; Sketch Afternoon Tea. Like before, also this day we were very content with the delicacies, champagne and service. One tip is not to book a late afternoon table, because the staff seems to be busy preparing for the evening after 4 pm [in between]. Other than that, I had a terrific afternoon feeling like I was in Bridgerton again [beautiful live music in the background] and great company.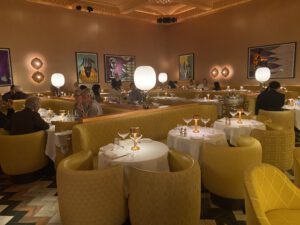 A little of history for you this time. The building [9 Conduit Street] was designed by James Wyatt in 1779. The building has been the headquarters of the Royal Institute of British Architects. Later on, this became the London Atelier of Christian Dior. Pretty cool, right?
Another stunning fact is that Dame Millicent Garrett Fawcett [CBE] held a public meeting here on July the 17th [1869], calling for the enfranchisement of women. She campaigned [and fought] for women's right to vote in the UK and women's equality. This legacy lives on today as one of the core principles of Sketch's ethos.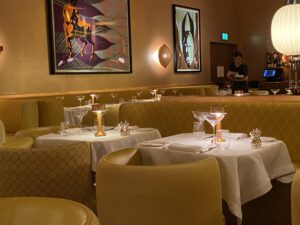 The redecoration, beginning of March [2022], was fulfilled by India Madhavi in collaboration with British Nigerian artist Yinka Shonibare [CBE]. [Yinka is known for his social commentary on colonialism]. They both did a magnificent job creating a magical room of African culture with the warmth of the sunshine in a yellow hue. The history of the building and facts I did find on the menu during the afternoon tea.
A side note, the cute box to take away the rest of your sweets is still pink. It would be nice if this is in that beautiful warm yellow to fit in with the rest of the theme. [Just a minor detail.] I hope you learned something today. I can't wait to go back, but probably to a different room first.
[metaslider id="8735″]
#hellolondon #londonlife #livingabroad #happy #goodvibes #misswidjaja2022 #mwlifeafter35 #hellogems #staycreative #afternoontea #jubileeweekend #family #Sketch #Sketchafternoontea #SketchLondon #SketchtheGallery @sketchlondon #HELLOFOODIE #FOODTOBER